Rajnath Singh denies reports of his taking over as UP CM, says these talks are 'unnecessary and futile'
India TV Politics Desk
New Delhi
15 Mar 2017, 12:08:46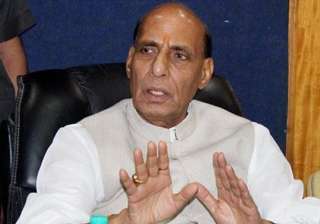 Union Home minister Rajnath Singh today denied reports of being a frontrunner in the race for becoming the new Chief Minister of Uttar Pradesh.
Brushing aside all such speculations, Singh said that talks about his name being in the running for Uttar Pradesh CM were "unnecessary and futile".
Rajnath Singh was reacting to some media reports that said that the Union Home Minister along with his cabinet colleague Manoj Sinha and Gorakhpur MP Yogi Adityanath were among the frontrunners for the coveted UP CM's post.
These reports also added that Rajnath Singh was most likely to take over as new Chief Minister of Uttar Pradesh.
The BJP registered an impressive victory in recently concluded UP Assembly elections.  
With 312 seats in a House of 403 members, the saffron party got more than three-fourth seats on its own. 
Along with its allies including Union minister Anupriya Patel's Apna Dal, the BJP emerged victorious in an unprecedented 324 seats. 
The BJP's performance was almost a repeat of 2014 Lok Sabha elections in the state when the party along with its allies bagged 73 out of 80 parliamentary seats.
The BJP parliamentary board has authorised party chief Amit Shah to finalise the names of chief ministers in UP and Uttarakhand after consulting the newly-elected  legislators of the two states.