Rape accused Prajapati planning to flee country, airports put on alert
Airports and exit points have been alerted about the possibilities of rape accused Uttar Pradesh minister Gayatri Prajapati trying to flee abroad. A Letter of Cancellation (LC) will soon be opened against him and all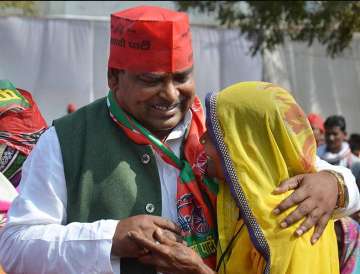 Source: PTI
India TV Politics Desk
New Delhi
March 03, 2017 23:27 IST
Airports and exit points have been alerted about the possibilities of rape accused Uttar Pradesh minister Gayatri Prajapati trying to flee abroad.
A Letter of Cancellation (LC) will soon be opened against him and all airports have been alerted to prevent the 49-year-old Prajapati from fleeing the country, official sources said. 
A letter of cancellation is a technical term used for alerting immigration authorities about any possible move by a suspect to leave the country. 
Whenever passport of the suspect comes for immigration clearance at any exit point of the country, the computer screen warns the official to not let the person leave. 
The Sashtra Seema Bal (SSB), guarding Uttar Pradesh's border with Nepal, has also been alerted about the possiblity of such a move by Prajapati. 
The UP Police has registered an FIR against the ruling Samajwadi Party politician, who continues to elude them, for allegedly gang-raping a woman and molesting her daughter with his aides. The FIR was filed recently following a directive of the Supreme Court after the alleged victim woman approached it. 
A relative of the woman who was allegedly raped has alleged that a UP Police officer, who had come to AIIMS to record the victim's statement, threatened to kill them in a fake encounter. 
In a complaint filed at Hauz Khas police station, one of their kin has alleged that a DSP-rank officer of the UP Police yesterday barged into a ward at AIIMS, where the victim's 16-year-old daughter is admitted, threatened them and snatched their mobile phones. 
The victim's daughter, who was also allegedly sexually assaulted by the minister, is undergoing treatment in a restricted ward of AIIMS. 
"The lady officer pushed the girl who is undergoing treatment and pestered the mother to record the statement. 
"When we objected to it, the officer threatened to get us killed in a fake encounter," alleged the complainant, who claimed to be a cousin of the victim. 
Delhi Police sources said that policemen had gone to AIIMS yesterday upon receiving a PCR call from the victim's family. 
However, they found nothing that substantiated their allegations about their phones being snatched and they being threatened by the UP Police. 
"We have received a complaint from them and it is being examined. In case something comes out in the investigation, we will register an FIR," said a senior Delhi Police officer. 
Deputy Superintendent of Police Amita Singh had yesterday recorded the statement of the victim and her daughter amid opposition by their family members at AIIMS. 
The statement was videographed as per the rules under the Protection of Children from Sexual Offences (POCSO) Act, they added. 
The UP Police has filed an FIR against Prajapati and his accomplices on an order from the Supreme Court. 
The statement of the victim was recorded before a chief metropolitan magistrate in Lucknow last week.
(With inputs from PTI)