Roopa Ganguly admitted to a Kolkata hospital with blood clots in brain
Actress-turned-politician and a leader of the Bharatiya Janata Party Roopa Ganguly has been admitted to a hospital in Kolkata after she complained of severe headache and partial loss of vision. Ganguly is known for playing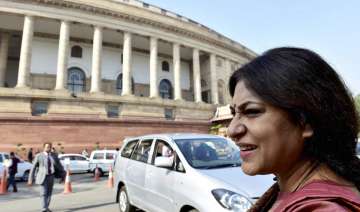 Source: PTI
India TV Politics Desk
Kolkata
December 23, 2016 19:58 IST
Actress-turned-politician and a leader of the Bharatiya Janata Party Roopa Ganguly has been admitted to a hospital in Kolkata after she complained of severe headache and partial loss of vision.
Ganguly is known for playing the character of Draupadi in BR Chopra's 1988 epic TV series 'Mahabharat'.   

However, doctors stated that her condition is "absolutely stable."
"Roopa Ganguly has been admitted to the hospital with a small haematoma in brain. She is absolutely stable," AMRI Hospital in Salt Lake City said in a statement.
Haematoma refers to a solid swelling of clotted blood within the tissues.
Ganguly heads the BJP's women's wing in West Bengal and was the star campaigner for the party in the Assembly elections. She had joined the party in January last year.