Samajwadi Party leader announces 'reward' for beheading PM Narendra Modi, BJP chief Amit Shah: Report
A leader of Samajwadi Party in Uttar Pradesh has announced "appropriate reward" for anyone who would "behead Prime Minister Narendra Modi and BJP chief Amit Shah" for creating an "Emergency-like situation" through demonetisation and being "responsibl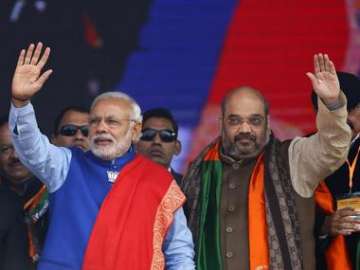 India TV Politics Desk
New Delhi
December 10, 2016 12:11 IST
A leader of Samajwadi Party in Uttar Pradesh has announced "appropriate reward" for anyone who would "behead Prime Minister Narendra Modi and BJP chief Amit Shah" for creating an "Emergency-like situation" through demonetisation and being "responsible" for the 2002 Gujarat riots.
According to a report in The Indian Express, Tarun Deo Yadav, former SP youth wing president of Baghpat district, made the announcement in a handwritten letter, dated December 7.
The letterhead mentions his name as the Samajwadi Party Yuvjan Sabha district president although state SP president Shivpal Yadav had dismissed all district units, including frontal organisations, earlier this month.
In his letter, Tarun further alleged that the common man was facing problems and labourers were not getting their wages due to the demonetisation decision.

 

"Those who behead Narendra Modi and Amit Shah will be given appropriate rewards… If you see a person as old as your grandfather waiting in a bank queue, you too will curse Modi. Don't you agree that it is an Emergency-like situation… this government must go?" Tarun Deo Yadav  told The Indian Express.
A video of Tarun Deo Yadav has also gone viral in which he is seen challenging both PM Modi and Amit Shah to enter Baghpat and hold a rally. The video, in which he is seen reading out his letter, was reportedly shot during a youth wing meeting held at the local party office.
The Samajwadi Party, however, has distanced itself from Tarun's statements and said that action will be initiated against him.
"The party has nothing to do with such statements," SP state spokesperson Mohammad Shahid said. 
Ajay Shankar Rai, Baghpat Superintendent of Police, has also said that an FIR will be lodged against him.