Sasikala elected AIADMK Legislative party leader, set to become Tamil Nadu CM
Many in the AIADMK have urged Sasikala to take the post of Tamil Nadu Chief Minister.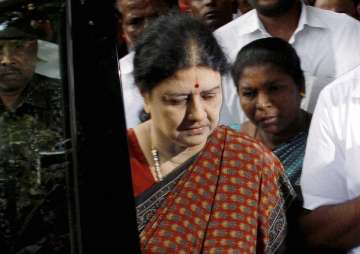 Source: PTI
India TV Politics Desk
Chennai
February 05, 2017 17:30 IST
As AIADMK members of Tamil Nadu Legislative Assembly meet today in Chennai, all eyes are on party General Secretary Sasikala Natarajan who many in the party believe should take over as the Chief Minister. 
After the death of then Chief Minister Jayalalithaa, who was also the General Secretary of the AIADMK, Sasikala took her place in the party and O Panneerselvam in the state government. 
Many in the party, time and again, have urged the Jayalalithaa loyalist to take over the charge of the government as well. 
Here are live updates: 
* Tamil Nadu Government will follow the principles of Amma (Jayalalithaa): Sasikala
* It was Thiru.O. Paneerselvam who insisted first,that I become the Chief Minister of the State: Sasikala
* Following the demise of our Honourable Amma ,it was Thiru. O.Paneerselvam who urged me first to take charge as the GS of AIADMK: Sasikala
Tamil Nadu: Elected as Legislative party leader of AIADMK, Sasikala Natarajan chairs MLAs meet at AIADMK HQ in Chennai pic.twitter.com/RTWyGQbvAe

— ANI (@ANI) February 5, 2017
* Chinnamma (Sasikala Natarajan) all set to become the Next Chief Minister of Tamil Nadu: AIADMK
​
Tamil Nadu: Sasikala Natarajan reaches AIADMK HQ in Chennai, she is all set to be Tamil Nadu CM says AIADMK pic.twitter.com/N0pbXHzRG8

— ANI (@ANI) February 5, 2017
* AIADMK MLAs elect Sasikala Natarajan as Legislative party leader: AIADMK
* TN CM O Panneerselvam proposed the name of Chinnamma (Sasikala Natarajan) as the leader of AIADMK Legislature Party Leader: AIADMK
Chennai (Tamil Nadu): AIADMK MLAs meeting to take place today, visuals from party headquarters pic.twitter.com/dkQb94hF4x

— ANI (@ANI) February 5, 2017
Ever since Jayalalithaa's death in December, there had been a clamour that Sasikala should follow the earlier practice of both the party general secretary and the chief minister's post should be vested in the same person. 
Among others, Lok Sabha Deputy Speaker M Thambidurai had backed Sasikala for the Chief Minister's post. 
Chennai: AIADMK's workers arrive for meeting of party MLAs to be held at party HQ pic.twitter.com/YAMYOWS5r8

— ANI (@ANI) February 5, 2017
Earlier this week, Sasikala had appointed senior leaders, including some former Ministers and a former Mayor, to key party posts. 
Former Ministers K A Sengottaiyan, S Gokula Indira and B V Ramana, besides ex-Mayor Saidai S Duraisamy were made the AIADMK's Organisation Secretaries. 
The appointments also included that of Fisheries Minister D Jayakumar to a key party post. 
She had also announced removal of Ambattur MLA V Alexander as AIADMK's MGR Youth Wing Secretary. He will, however, continue as the party's Tiruvallore (East) District Secretary, Sasikala had said in a statement. 
Last month, Thambidurai had said that the leadership in both the party and governance should be with the same person, while urging Sasikala to take over as Chief Minister. 
He had cited the political tussle in Samajwadi Party in Uttar Pradesh to drive home his point that the control of government and party should vest with the same person. 
Sasikala was appointed as General Secretary by AIADMK's top decision-making body General Council on December 29. She took charge of the post on December 31, pledging to take forward the legacy of Jayalalithaa. 
In December last year, four state ministers had asked Sasikala to become the Chief Minister, besides AIADMK General Secretary. 
A resolution to this effect was passed at a meeting of Tirunelveli Urban Jaya Peravai (Forum), led by state AIADMK secretary and revenue minister R B Udhayakumar on December 17. 
The other ministers who participated in the meeting were V M Rajalakshmi, Sevoor Ramachandran and Kadambur Raju. 
Sasikala, 62, had been a close aide of Jayalalithaa for three decades and was always seen as a power centre in AIADMK. 
Opposition DMK is closely watching the development and is worried about divisions in the ruling party saying that it should not affect the functioning of the administration.  
DMK Working President M K Stalin, who appears to be keeping his options open on the possibility of another government in the tenure of the current Assembly, today said that people of Tamil Nadu did not vote for anyone from Jayalalithaa's "household" to be chief minister.
"One thing is certain that the government - in its present form - is clearly one that doesn't have the explicit legitimacy of having been elected by the people. The people voted for a government to be headed by Ms Jayalalithaa in May, 2016 and not for one to be run by Mr. O Panneerselvam or any other person from Ms Jayalalithaa's household," Stalin told PTI in an interview.
Stalin said that the present government, which clearly does not enjoy the support of the majority people, which has a divided cabinet and the AIADMK MLAs speaking in different voices, is bound to fail. 
"As a responsible party, the DMK is watching the situation closely. Any decision that we take will be within the framework of democracy, reflecting the popular willand aspirations of the people," he said.