Sasikala names AIADMK cadre's newborn girl as Jayalalithaa in memory of late CM
Former Indian actress and politician Jayalalithaa's aide Sasikala on Sunday named a new born baby girl of an AIADMK cadre on her name in memory of the late Chief Minister. The baby named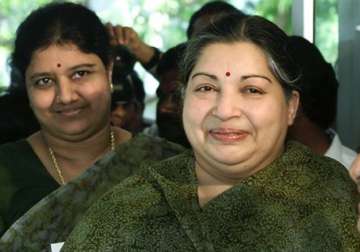 Source: PTI
India TV Politics Desk
Chennai
December 18, 2016 20:05 IST
Former Indian actress and politician Jayalalithaa's aide Sasikala on Sunday named a new born baby girl of an AIADMK cadre on her name in memory of the late Chief Minister.
The baby named 'Jayalalithaa' by Sasikala is the child of Gaythri and Senthil Kumar. Resident of Theni district, Senthil Kumar is an auto driver, a party release said.
Sasikala named the child after the late chief minister here at the Poes Garden residence of Jayalalithaa, where she continues to live.
Jayalalithaa passed away on December 5 here after a prolonged hospitalisation stretching over two months.
(With inputs from PTI)