See no need to explain delay in deposits: Yogendra Yadav reacts to RBI's latest rule
The Reserve Bank of India's move on Monday to restrict the deposit of an amount over Rs 5000 in demonetised currency more than once till December 30 and its stricture that the money would be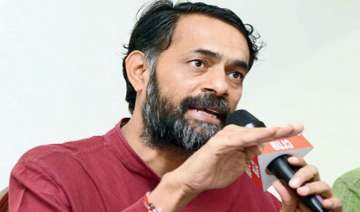 Source: PTI
India TV Politics Desk
New Delhi
December 20, 2016 14:38 IST
The Reserve Bank of India's move on Monday to restrict the deposit of an amount over Rs 5000 in demonetised currency more than once till December 30 and its stricture that the money would be credited to the account only after receiving a satisfactory reply from the customer as to why the amount couldn't be deposited earlier has not gone down well with certain quarters.
While the government said the move was necessary to curb the laundering of unaccounted cash into bank accounts, Swaraj Abhiyaan Convener Yogendra Yadav took to twitter to express his dismay at being sought an explanation for delay in deposits and cite his explanation for delay in deposit of old notes.
This is the "explanation" I have given my bank for making a small deposit today. Pl retweet if you agree pic.twitter.com/v1JyhpADZ3

— Yogendra Yadav (@_YogendraYadav) December 20, 2016
In a handwritten note that he claimed was his written explanation to a bank for making a deposit, Yadav said, "I have made no cash deposits in my accounts since November 8, 2016".
Yadav said that he does not owe any explanation to anybody as does not see no reason to offer the same.
Underlining that he was waiting for the queues to end, Yadav said that it was Prime Minister who had offered the assurance that there was no need to rush to bank as December 30 was the last date for making the deposits.