Talks with Pakistan must for Kashmir solution, says Farooq Abdullah
Days after he created a controversy by pledging support to Hurriyat for 'Azaadi', former Jammu and Kashmir chief minister Farooq Abdullah has said that solution to Kashmir problem will not be found until all constituents in the border state and Pakis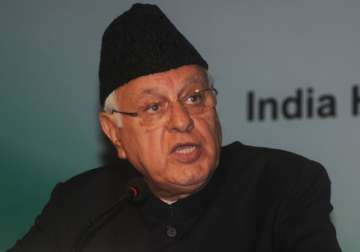 India TV Politics Desk
New Delhi
December 08, 2016 9:23 IST
Days after he created a controversy by pledging support to Hurriyat for 'Azaadi', former Jammu and Kashmir chief minister Farooq Abdullah has said that solution to Kashmir problem will not be found until all constituents in the border state and Pakistan are not consulted.
"(Former Prime Minister) Atal Bihari Vajpayee had said that we can change friends but we cannot change neighbours. If both countries befriend, both will prosper, but there will not be any benefit if we become enemy. Until India hold dialogue with Pakistan, the issue will not be resolved. We will have to seek participation of all constituents of Kashmir, people from Kashmir, Ladakh, Jammu to decide what we have to do find solution," the National Conference leader said here on Wednesday.
"Anger is brewing up in people's minds. It could not be seen for now. But any small cause can trigger violence again. How long people will suffer, die? Let's take proper action to finish the problem," Abdullah added.
Abdullah had recently created a stir by saying that he supported Huriyat Conference and asked the separatist leaders to unite for the 'right cause'. He had even said that the 'nation will have to correct past mistakes and adopt new policy to bring peace in the Kashmir'.
Meanwhile, BJP has blamed the NC and Congress for the problem since they had governed the state for major part. 
"Vajpayeeji had adopted a policy "Insaniyat, Kashmiriyat and Jamhooriat" to address the problem and Prime Minister Narendra Modi had continued the policy," party spokesperson Sudhanshu Trivedi said.