Tamil Nadu: AIADMK clears decks for Sasikala Natarajan's appointment as party General Secretary
Nearly 10 days after former Tamil Nadu Chief Minsiter J Jayalalithaaa passed away, ruling AIADMK has announced that her closest aide, Sasikala Natarajan, will replace her as the party chief. "It is clear that Chinnamma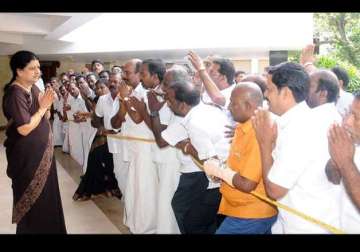 India TV Politics Desk
Chennai
December 15, 2016 14:56 IST
Nearly 10 days after former Tamil Nadu Chief Minsiter J Jayalalithaaa passed away, ruling AIADMK has announced that her closest aide, Sasikala Natarajan, will replace her as the party chief.
"It is clear that Chinnamma (Sasikala) will be the next General Secretary of the party," AIADMK spokesperson C Ponnaiyan told ANI. Natarajan, 54, holds no post in the party as of now.
Jayalalithaa was the party's general secretary from 1989 till her demise.
Sasikala, hailing from Mannargudi from Tanjavur, was living with Jayalalithaa in Poes Garden since 1991. With no ties to her own biological family, Jayalalithaa began to accept Sasikala as her sister and relied heavily on her support and counsel.
Speaking to an English news channel, Ponnaiyan stressed that the rules will be amended if needed to place Sasikala in control.
"It is the desire of the entire party," he said, adding, "Sasikala has functioned as the conscience of Amma."
However, the party spokesman also added that Sasikala is yet to give her consent to becoming the AIADMK General Secretary.
"Party members are requesting her to take over the mantle. She is patiently hearing them out. She has not given any indication about standing for the party post," party spokesman C Ponnaiyan told IANS.
According to him, Sasikala seems to be of the view that there should be unanimity among AIADMK members on her becoming the General Secretary, a post that was held by Jayalalithaa.
"Nobody is against her (Sasikala), she is very well known person. She was the caretaker of Amma (Jayalalithaa), since the inception of the AIADMK when Jayalaithaa took over the reign, she stood beside her for nearly 35 years and is well aware of the mood of the party and people," Deputy Speaker of Lok Sabha Thambi Durai told ANI earlier.
Since Jayalalithaa's passing away on December 5, the Chief Minister, ministers and other top officials have been regularly trooping in and out of the former's Poes Garden residence, meeting with Sasikala, reports claim.
Top party leaders including party presidium chairman E Madusudanan, party treasurer and Chief Minister O Panneerselvam, and Lok Sabha Deputy Speaker M Thambidurai had urged her take on the top post and lead the party.