Tamil Nadu Dy CM O Panneerselvam meets PM Modi, says no 'political issues' discussed
AIADMK leader and Deputy CM O Panneerselvam met Prime Minister Narendra Modi in New Delhi on Thursday.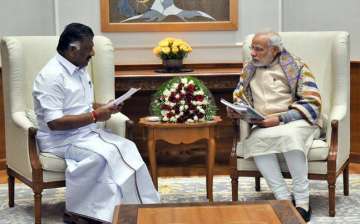 Source: FILE PHOTO
Written by: India TV Politics Desk
New Delhi
October 12, 2017 14:17 IST
Tamil Nadu Deputy Chief Minister O Panneerselvam on Thursday met Prime Minister Narendra Modi in the national capital. Panneerselvam said he discussed dengue fever outbreak in Tamil Nadu with the Prime Minister and no political issues came up during the meeting. 
Other AIADMK leaders like Rajya Sabha MP V. Maitreyan, former Tamil Nadu minister KP Munusamy and former MP Manoj Pandian accompanied Pannerselvam to the meeting.
This was the first meeting of any top AIADMK leader with the Prime Minister since the merger of the two factions of the party, one led by Panneerselvam and another by Chief Minister Edappadi K. Palaniswami. Both leaders had met Modi separately before the merger was officially announced. 
OPS, after the meeting with the PM, dismissed reports of differences between him and Palaniswami saying that the two camps merged without any preconditions. 
This meeting came at a time when several lawmakers from the ruling have sworn fealty to TTV Dhinakaran, the nephew of jailed leader VK Sasikala.