Tamil Nadu govt makes public Jayalalithaa's medical report prepared by AIIMS
Tamil Nadu government on Monday made public Jayalalithaa's health report prepared by the AIIMS.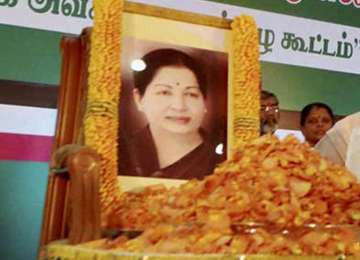 Source: PTI
India TV Politics Desk
New Delhi
March 07, 2017 13:09 IST
In an apparent attempt to put all speculations surrounding J Jayalalithaa's death, Tamil Nadu government on Monday made public her health report prepared by the All India Institute of Medical Science (AIIMS). 
The medical report prepared by AIIMS contains the analysis of the late Chief Minister's health condition by its doctors during their five visits to Chennai. 
AIIMS Deputy Director (Administration) V Srinivas said that the state government had yesterday sought the visit notes of the delegation for its official records. 
The move assumes significance in the backdrop of doubts being raised from different quarters over the former AIADMK chief's death on December 5. 
Srinivas handed over the papers to the Principal Secretary of Health of Tamil Nadu, Dr J Radhakrishnan, here today. 
TN Govt makes Jayalalithaa's medical records public,says did so to put at rest speculation surrounding her hospitilaisation, treatment&death pic.twitter.com/uD5UmyDP6C

— ANI (@ANI) March 6, 2017
"On the request of the Tamil Nadu government for expert medical advise, the All India Institute of Medical Sciences (AIIMS) had deployed a team of senior specialists to visit Chennai five times between October 5 and December 6, 2016. 
"The team was led by Dr G C Khilnani, Professor in the department of pulmonology," Srinivas said. 
Talking to media, Radhakrishnan said, "It's a self explanatory report as no information was held back. There is no basis to hearsay speculations."
The Tamil Nadu government had on Sunday rejected former chief minister and rebel AIADMK leader O Panneerselvam's claims of foul play in the treatment of Jayalalithaa, an allegation which has been dismissed by state Health Minister C Vijayabaskar. 
The opposition DMK too has approached the Madras High Court seeking a comprehensive probe into the death of Jalalalithaa. 
Twelve AIADMK MPs, belonging to the O Panneerselvam group, had met President Pranab Mukherjee in New Delhi on February 28 and handed over a petition seeking a probe into the medical treatment provided to Jayalalithaa. 
Last week, he had announced staging a hunger strike on March 8 to seek a probe into Jayalalithaa's demise. 
Health Minister C Vijayabaskar had yesterday accused Panneerselvam of playing on the death of Jayalalithaa for his political survival.
Vijayabaskar said the expelled AIADMK leader was in the know of things when she was at Apollo Hospitals and had no suspicion about anything. 
"Everyday, at 11 in the morning, an elaborate briefing about Amma's health and the kind of treatment she was receiving was given by the doctors, which Panneerselvam, Chief Secretary, Health Secretary and other government officials were well aware of," he said in a statement here.  
The Health Minister also recollected that a team of well- known international and domestic medical experts including British interventionist Dr Richard Beale had treated Jayalalithaa, who died on December 5.