The terror snake is now biting its own master: Rijiju fires salvo at Pakistan
Union Minister of State for Home Kiren Rijiju on Tuesday slammed Pakistan for trying to create disturbance in Punjab saying that its terror policy was now backfiring. "A snake called terrorism has been bred by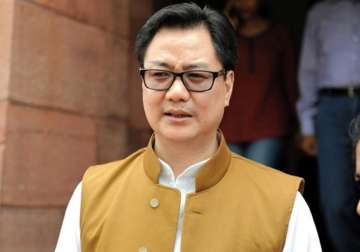 Source: PTI
India TV Politics Desk
New Delhi
December 21, 2016 14:16 IST
Union Minister of State for Home Kiren Rijiju on Tuesday slammed Pakistan for trying to create disturbance in Punjab saying that its terror policy was now backfiring.
"A snake called terrorism has been bred by neighbouring Pakistan and it is biting its own master," Rijiju said.
The minister was addressing media after laying the foundation of the complex of the 7th Battalion of National Disaster Response Force (NDRF) in Ludhiana.
Speaking about Punjab, Rijuju said, "There are forces that are trying to create trouble specifically in the state, a state which fed the entire nation when it was needed the most. Now we are doing our best to protect it."
"Our intelligence agencies are fully alert and keeping a close eye on activities of some anti-national forces. We would not allow the peace of the state to be disturbed," he added.
On the NIA filing chargesheet in the Pathankot airbase attack, the MoS said the Centre would pressurise Pakistan to extradite the perpetrators of terror to India. 
"India will seek the help and support of other countries for the purpose because all the countries are facing heat of terrorism," he said.
"It is time to build extraordinary pressure on Pakistan to hand over the four terrorists alive to us. It is time for the world to isolate Pakistan for the terrorism it has been supporting and nurturing on its soil," he added.
Wrapping up investigations in the Pathankot airbase attack case, NIA had on Monday filed a charge sheet against Pakistan-based Jaish-e-Mohammed chief Maulana Masood Azhar, his brother and two others for hatching the conspiracy of the January 2 audacious terror strike in the state that left seven personnel dead and 37 others injured.