TN man claiming to be Jayalalithaa's son stakes claim to her properties
India TV Politics Desk
Chennai
15 Mar 2017, 13:43:09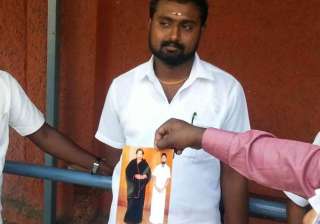 Over three months since the demise of AIADMK supremo Jayalalithaa, the question on who inherits her properties still looms large with Amma leaving no will to settle claims. And there is a new twist in the story. 
An individual by the name of Krishnamurthy, claiming to be the only son of the late Tamil Nadu Chief Minister, has filed a complaint which the Chief Secretary of the state alleging that his mother didn't die a natural death but was killed. 
According to a Daily Mail Report, Krishnamurthy, a resident of Erode, has said that he lives at Jayalalithaa's friend Vanithamani's house along with his adopted parents. He further claimed that he visited the late Chief Minister at her Poes Garden residence on September 14, 2016 and stayed with her for four days. 
"My mother wanted to introduce me as her son to the world and knowing this an argument broke out between her and Sasikala," Krishnamurthy was quoted by Daily Mail as saying. 
The 'secret son' said that he had kept quiet till now, fearing for his life, but has now gathered the courage to reveal the truth. He further claimed that being the only son of Jayalalithaa, he is the rightful owner to her properties. 
This is not the first instance of a claimant emerging following Jayalalithaa's death. Earlier, a woman had come out claiming to be the daughter of Jaya, but later turned out to be a hoax. The woman, identified as Priya Lakshmi, had claimed that she was the daughter of MGR and Jayalalithaa. 
However, the cops identified her claim as a hoax and arrested her for 'fraudulence'. 
AIADMK supremo Jayalalithaa passed away on December 5 after being in the hospital for 72 days. Her death caused a major political battle in Tamil Nadu and even disintegrated AIADMK into OPS, Sasikala and Deepa factions. 
Sasikala, however, returned to prison to resume the four-year term after being convicted by the Supreme Court in a 19-year-old disproportionate assets case.
On the other hand, Team OPS and other political parties are seeking a judicial enquiry into the death of the late chief minister which has not been resolved. 
Apart from the palatial Poes Garden bungalow which is estimated to be worth Rs 90 crore, Jayalalithaa's fixed assets were worth over Rs 80 crore. In her affidavit filed for this year's assembly election, she declared her assets worth Rs 113.73 crore, which was Rs 3.40 crore less than what she had declared in 2015.