Truce still distant as three-hour meeting between Akhilesh and Mulayam ends inconclusively
Akhilesh Yadav on Tuesday met his estranged father Mulayam Singh Yadav even as the two factions of the Samajwadi party staked claim to the party's election symbol cycle.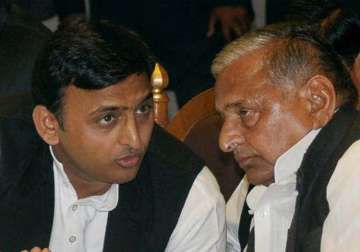 India TV Politics Desk
New Delhi
January 03, 2017 20:21 IST
Uttar Pradesh Chief Minister Akhilesh Yadav on Tuesday met his estranged father Mulayam Singh Yadav even as the two factions of the Samajwadi party staked claim to the party's election symbol "cycle". 
Akhilesh, who was on Sunday declared the national president of the party at a national convention, arrived to meet his father Mulayam as soon as the SP founder reached Lucknow after spending a day in Delhi where he met the Election Commission to claim the party symbol. 
Akhilesh spent over three hours at the residence of his estranged father. Sources said that the meeting did not yield any results even as several formula have been suggested in a last-minute effort to douse the infighting. 
Meanwhile, Ram Gopal Yadav, who is being hailed as the architect of Sunday's coup has categorically denied that any compromise has been worked out between the two factions. 
"There is not going to be any compromise in the SP. Both sides have approached the Election Commission and have put forth their arguments," Ram Gopal told news agency ANI.
"We will fight elections under Akhilesh as national president, Election Commission will decide over election symbol," he added. 
The Chief Minister arrived at the 5 Vikramiditya Marg residence of Mulayam around 1 pm, within an hour after the party patron flew into the state capital. 
Ministers Gayatri Prasad Prajapati and Balram Yadav, MLC Madhukar Jetley and senior leader Ambika Chaudhary were already present at Mulayam's residence. 
In a one-to-one meeting between father and son that lasted over one and half hours, Mulayam expressed displeasure over the move to call the national convention and remove him as the party's national president.  
The party patron is said to have told Akhilesh that Ram Gopal has broke the family. 
Sources said that Akhilesh has agreed to step down as the national president but wants say in allotting tickets for the upcoming polls. He has demanded to be made state president. 
Akhilesh has, however, refused to compromise on his two major demands- to keep away Shivpal from state politics and expel Amar Singh from the party. 
Nearly two hours in the meeting, Shivpal Yadav, who was removed by Akhilesh faction as state unit chief, arrived at Mulayam's residence along with his son Aditya.  
Shivpal has blamed Ram Gopal for the infighting in the family and the party. Sources said that Shivpal was ready to compromise but warned "Netaji" against Ram Gopal. Mulayam has said to have conveyed to both Akhilesh and Shivpal that Ram Gopal is not acceptable to him.
When Mulayam asked Akhilesh to withdraw the plea from Election Commission, the CM said that the outstanding issues must be resolved first.
The leaders meeting failed to arrive at a mutually acceptable formula. Akhilesh left his father's residence after 4 pm.
However, sources said that Akhilesh could meet his father once again today. There have been reports of several formulae being floated to arrive at a compromise. These include Akhilesh retaining the post of national president, with Mulayam being pushed to an advisory role as founder president. 
Earlier, leaders loyal to Akhilesh -- Ram Gopal Yadav, Naresh Agarwal and Kiranmoy Nanda -- met the Commission this morning to stake claim over SP and its election symbol.
All three who represented Akhilesh before the poll panel stand expelled from SP by Mulayam. 
"The real Samajwadi Party belongs to us as 90 per cent of the people support us," Ram Gopal, who is Mulayam's cousin and has sided with Akhilesh in the family feud, told reporters after meeting the Commission. 
Yesterday, Mulayam himself drove down to Nirvachan Sadan, the EC headquarters, to inform the poll watchdog that he continues to head the party and the decision to anoint his son Akhilesh as its president by the rival faction was unconstitutional as per the SP constitution.  
Rajya Sabha MP Naresh Agarwal said the decision to remove Mulayam from national president's post was taken as per the constitution of the party.
"Samajwadi Party constitution says that president can be removed if he or she takes arbitrary decisions or fails to call National Executive. Akhilesh has been chosen as the national president according to the mandate of party's constitution," Agarwal said.