Rajnath to be next UP CM? BJP MLAs to decide on March 18
312 MLAs of the BJP will meet on March 18 to elect the Legislative Party leader.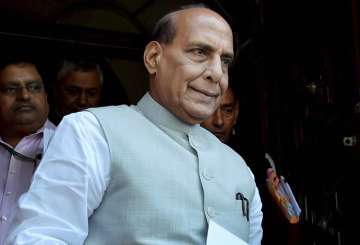 Source: PTI
India TV Politics Desk
New Delhi
March 16, 2017 21:17 IST
The 312 newly-elected MLAs of the Bhartiya Janata Party (BJP) will meet on March 18 to elect the Legislative Party leader, who will very well be the next Chief Minister of the most populous state of the country. 
BJP observers Union Minister Venkaiah Naidu and General Secretary Bhupender Yadav will be present at the legislative party meeting in Lucknow, scheduled for 5 pm on Saturday, UP BJP General Secretary Vijay Bahadur Pathak said. 
Asked specifically as to whether there was any likelihood of an election for the post of the leader of the Legislature Party, Pathak avoided a direct reply, saying, "I can't say." 
BJP sources said that oath taking ceremony will take place on March 19. 
Although there has been no certainty on who will be the BJP's choice to lead the government in the politically significant state, Union Home Minister Rajnath Singh is said to be among the frontrunners for the coveted job.
However, Rajnath, the tallest BJP leader from Uttar Pradesh who served as the Chief Minister the last time the BJP was in power in the state, has been dismissive about the possibility. 
Also Read: Why a strong Congress in Opposition is essential for Indian Democracy
"Kya faltu baat kar rahe hain (what nonsensical talk areyou doing)," he retorted when asked by reporters outside Parliament House whether he was a contender for the post. 
BJP has won a historic mandate in UP, clinching 325 seats with its allies, and whoever serves as the CM, will be under immense pressure to deliver on the party's poll promises. 
Singh has vast administrative experience, including as UP Chief Minister in 2000-02. 
A Financial Express report quoted a "a top BJP source" as saying that BJP is set to name Rajnath as the new UP CM. 
He, however, dismissed the possibility yesterday and described the speculation about his return to state politics "unnecessary and futile". 
Given the level of the BJP's victory in the state which extended beyond geographical and caste boundaries, Prime Minister Narendra Modi would want to nominate a person for the job who can deliver on his development agenda and the promise of putting down alleged lawlessness in the state under Samajwadi Party. 
Also Read: Voices seeking change in Congress gain strength. Who said what
By all standards, Rajnath Singh fits the bill because of his stature and administrative experience. He was also instrumental during the campaign and addressed a record number of rallies. 
PTI quoted top party sources as saying that that barring Modi and BJP chief Amit Shah, who have been holding consultations over government formation, hardly anybody had any real clue as to what was happening behind the scene.
The names of a host of leaders, including some sitting MPs are also doing the rounds in political circles. 
Among them is that of Manoj Sinha, an upper caste Bhumihar from the 'Poorvanchal' belt where Modi's constituency Varanasi is also located. 
Sinha, MP from Ghazipur, is serving his third term in the Lok Sabha and was given independent charge of Communication Ministry by Modi last year after he impressed him with his performance as Minister of State for Railways. 
The party's state unit chief Keshav Prasad Maurya, a Lok Sabha MP himself, is also said to be in the run for the top job.