UP polls: Modi accuses Akhilesh govt of being anti-farmer
Prime Minister Narendra Modi today charged the Akhilesh Yadav government of being anti-farmer.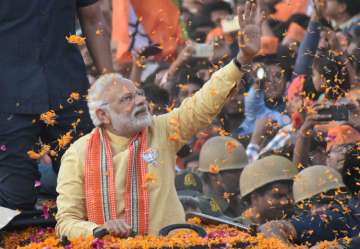 Source: PTI
India TV Politics Desk
Varanasi
March 07, 2017 13:11 IST
On the final day of campaign for the Uttar Pradesh Assembly polls, Prime Minister Narendra Modi today charged the Akhilesh Yadav government of being anti-farmer and having failed to implement the Centre's schemes meant for the farming community.
"There is a government in Uttar Pradesh which has nothing to do with development. This government is anti-farmer. Why is it that farmers don't benefit from the Fasal Bima Yojana? Why they don't help farmers in distress," Modi said addressing an election rally at Rohaniya, on the outskirts of his parliamentary constituency Varanasi.
Rohaniya Assembly segment, which makes his Lok Sabha constituency is predominantly rural and houses mostly farmer families. 
The constituency houses Jayapur, the first village to be adopted by the PM under the Saansad Adarsh Gram Yojana. 
Speaking at the rally on the third consecutive day of electioneering by him, Modi also accused the Samajwadi Party-ruled state government of discriminating when it comes to employment or implementation of schemes.
"Does any honest youth get employment in Uttar Pradesh?" Modi asked the crowd, saying "There is discrimination by the government. They see who is their own and who is not. In employment, the state government is cheating the youth of the state."
The Prime Minister also highlighted central government schemes, especially those for farmers, youth and women and said there was need to change the future of farmers.
He urged the people to vote for the Bharatiya Janata Party for a better future for the state and to "rid it of misrule" of SP, Bahujan Samaj Party and Congress.
"It is time to think about welfare of our youth so they prosper," the Prime Minister said.
Since Friday, Modi has addressed as many as three public meetings and taken out two processions in open vehicles. 
The Congress has lodged a complaint with the Election Commission that prior permission had not been sought for Friday's "roadshow", taken out hours before a similar show of strength by Rahul Gandhi and Akhilesh Yadav. 
The BJP has maintained that these were not "roadshows" but "Jan Sampark yatras" and there was no breach of model code of conduct as the PM merely waved at the cheering crowds, without uttering a word, on his way to a temple on Friday and the venue of his rally yesterday. 
Campaigning for the Uttar Pradesh Assembly elections will comes to a close at 5 PM today.