Voices of dissent being muzzled, Modi govt spreading fear: Opposition to President Mukherjee
Major opposition parties on Wednesday met President Pranab Mukherjee to put forth their concerns over recent incidents of violence, including attacks by cow vigilantes.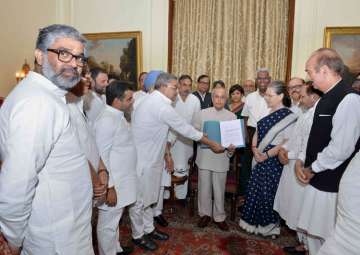 Source: PTI
India TV Politics Desk
New Delhi
April 12, 2017 20:48 IST
Major opposition parties on Wednesday met President Pranab Mukherjee and put forth their concerns over recent incidents of violence, including attacks by cow vigilantes, and attempts to "muzzle voices of dissent".
Oopposition leaders, including Congress President Sonia Gandhi, also raised the EVM issue in the meeting with the President. 
Besides Sonia, Congress Vice President Rahul Gandhi and senior party leaders Ghulam Nabi Azad and Mallikarjun Kharge, Communist Party of India-Marxist General Secretary Sitaram Yechury and Sharad Yadav of Janata Dal (United) were part of the 13-party delegation that called on the President.
Raising concern over what they called an "environment of fear and insecurity" in the country, the delegation sought President's intervention to protect India's constitutional democracy, preserve its plurality and diversity, safeguard fundamental rights and ensure that the rule of law is upheld in letter and spirit.
They submitted a memorandum to the President on alleged tampering of the Electronic Voting Machines (EVMs) during the recent state polls, undermining of constitutional institutions, attacks on the minority community by lumpen elements in Rajasthan and elsewhere, and unabated violence in Jammu and Kashmir, among others.
"Through our memorandum, we drew his attention to the recent critical developments which have seriously undermined accepted norms of governance and institutional integrity," said Azad, the Leader of Opposition in the Rajya Sabha.
Arbitrariness in decision-making and the appointments to key constitutional positions in brazen disregard of established procedures and practices was a matter of concern, he said, adding: "The environment of fear and insecurity is prevailing in the country and voices of dissent are being muzzled."
"Triggering false debates, orchestrating inflammatory narratives on nationalism, exploiting religious sentiments and threats of violence to the citizens are vitiating the environment and jeopardising the cause of peace and security."
"Self-styled lumpen elements have indulged in violence and mob lynching of citizens and harassment is being witnessed across the country. In Rajasthan, Jharkhand, Gujarat and Uttar Pradesh, a number of such incidents have taken place," he said.
"We also informed the President about how non-BJP-ruled states are being destabilised by the government through misuse of power of Governors and by creating artificial majority (in Goa and Manipur) through unethical means," Azad added.
Raising the issue of violence in Jammu and Kashmir, Azad said continued violence resulting in deaths and injuries to civilians and an overall failure of governance in the state was a matter of great national concern.
"It is an imperative that the government addresses the crisis and creates an reassuring environment for people to participate in the democratic process and caste their votes without intimidation and violence," he said.
The memorandum mentioned that there had been a tendency on the part of the government to avoid legislative scrutiny and bypass established practices for the enactment of legislation.
"It is misusing its brute majority in the Lok Sabha to scuttle parliamentary debate and scrutiny of bills by refusing to refer the same to the parliamentary standing committees," it said.
"Many key bills masked as money bills expose the intention of the government to deny the council of states its constitutional position in the enactment of laws. Changing 11 Acts through the omnibus Finance Bill, 2017 is unprecedented, improper and shocking," the memorandum added.
Concerned over malfunctioning and alleged tampering with EVMs, which raised questions on the sanctity of entire electoral process, the leaders of various opposition parties had also met the Election Commission authorities on Monday, Azad said.
According to the senior Congress leader, they have been assured by the Commission of an all-party meeting on the issue. 
(With IANS inputs)