Clamour grows for change in Congress after poll debacle. Who said what
There has been an increase in the number of Congress leaders asking for a change in leadership, albeit not directly blaming party vice-president Rahul Gandhi.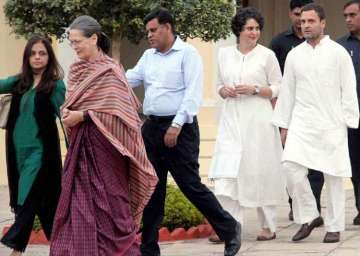 Source: PTI
India TV Politics Desk
New Delhi
March 16, 2017 19:01 IST
After the humiliating defeat in Uttar Pradesh and Uttarakhand at the hands of the BJP, there has been an increase in the number of Congress leaders asking for a change in leadership, albeit not directly blaming party vice-president Rahul Gandhi. 
Rahul Gandhi had literally led the Congress' campaign in UP where the party has now shrinked to seven MLAs in the 403-member Assembly. 
Although Rahul has spoken of "need to make structural, organisational changes," many do not believe that his promise holds any substance, considering past instances. 
Such promises, in the past, have not brought any considerable change in the party. But this time, the chorus for change is must stronger, from within and even outside the party. 
Also Read: Why a strong Congress in Opposition is essential for Indian Democracy
Here is what senior Congress leaders have said in asking for changes in the Congress party's organisation: 
Rahul Gandhi
"As far as the Congress party is concerned, we do need to make structural and organizational changes. That is a fact." 
"We are in the opposition, you have ups and downs. We had a little down in Uttar Pradesh, that's fine we accept it. We had five elections, we formed the government in Punjab and won in Manipur and Goa. That is not a bad result. It is true that we lost in Uttar Pradesh and Uttarakhand," Gandhi said. 
Mani Shankar Aiyar
"The party needs to rethink its strategies and restructure the organisation to stay in the political arena. We need to form an inclusive alliance instead of an inclusive party. The inability to nurture strong regional leaders has been our biggest failure leading to a string of electoral defeats," he told ANI.
Kishore Chandra Deo
"Congress was heavily depending on a dozen people who, for all practical purposes, have no accountability. Many of them have also developed certain personal likes and dislikes at the expense of the party. They have been continuing in important positions. The same people keep playing musical chairs and are put in charge from one state to another. You take the list of states these people have been in charge of and in most, the Congress has lost," he told Indian Express. 
Ashwani Kumar
"Party should candidly accept that mistakes have been made and show willingness to atone for them wherever the responsibility lies. This is the greatest ever threat that the Congress has faced to its relevance as a national political party, and everything that is necessary needs to be considered."
"All that the Congress needs to do is to put into motion a process which will be able to throw up leadership at various levels. When you confuse sycophancy for loyalty, you don't create leaders. When intellect is at a discount, you can't make a great party," Kumar said in an interview with Indian Express. 
"The surgery or introspection needs to delve deeper into one single issue. Why is it that the Congress party could not generate a set of leaders across the country?"
Priya Dutt
"We need to put our heads together and rebuild the party. It's not about one person. This party has not been about one person. It has been about a collective." 
"Congress has shown repeatedly that it suffers from an auto immune disease. Congress destroys Congress. We need to be treated from within to be healthy again," she tweeted. 
M Shashidhar Reddy 
"In the light of the electoral losses (of the Congress) in 2014 and thereafter in some states, and the strong urge from the party cadres, and people in general as well, about the need to resurrect the Congress, which alone can challenge the BJP in the country, there is a need for the Version 2 of the Kamaraj Plan. It is time for members of the CWC and AICC office-bearers to submit their resignations to give Congress vice president Rahul Gandhi a free hand to reorganise and revamp the Congress party. There should be a new-look party organisation at the national level, with new faces - a mix of the old and the young."
Abhishek Manu Singhvi
"There is no reason for despondency. There is a need for surgical, structural changes and I have no doubt they will happen," he told Reuters. 
M Veerappa Moily 
"Those responsible for the defeat of the party more than two times (in elections) will have to be changed. There is no point in giving them more responsibilities – either at the national or at state levels. Of course, this does not apply to our leadership. Rahul Gandhi or Sonia Gandhi." 
"We need structural changes, which require a major surgery right from the top under the leadership of Sonia and Rahul. You cannot replace (Prime Minister) Narendra Modi in the BJP. (Similarly) you cannot replace Sonia Gandhi or Rahul Gandhi in the Congress. But Amit Shahs can be changed," Moily said in an interview with Indian Express. 
Satyavrat Chaturvedi 
"Had the party gone for cardiac surgery after the 2014 election, the situation would have been different and the BJP would have been on the back foot," he told a private TV channel. 
Asked about suggestions that Gandhi was not the leader the Congress was looking for, Chaturvedi said: "I have to observe some constraints and restraints." 
Asked if Congress should move beyond Gandhi, Chaturvedi said: "I think in larger interest of the party, Rahul himself has to take a decision." 
When asked if the Congress needs to go through changes after drubbing in UP, Chaturvedi said, "Ab karne se bhi kya hoga, jab karna chahiye tha tab kiya nahi (What's the use now? They did not do it when they should have)."
Sandeep Dikshit
"The party cannot run on patronage and feudal leadership and one had to bring in people who deliver. Everybody must introspect or share with the party what went wrong. Senior leaders should not display love for "positions of power, Rajya Sabha membership or (post of) general secretary."
Asked if Rahul needs time to mature, Dikshit said "there is no time left for us". 
"I don't think there is time for anybody to mature. They all know that you have to work hard. I hope they know how to work hard," he said.