What next for SP? Mulayam, Akhilesh to lock horns over control of party, its symbol
It is only matter of time when the Samajwadi Party, which has ruled UP for decades, will be split between founder - father Mulayam Singh Yadav and son and the new face of the party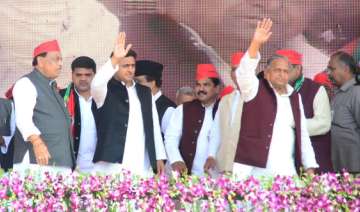 India TV Politics Desk
New Delhi
December 30, 2016 20:30 IST
It is only matter of time when the Samajwadi Party, which has ruled UP for a decade and a half, will be split between founder - father Mulayam Singh Yadav and son and the new face of the party Akhilesh Yadav.
The two factions, after a fight over distribution of tickets, are likely to lock horns next over the control of party and its symbol - 'bicycle'. 
The name and symbol of the party holds significance for both the factions, as whoever gets it will have an edge in the state Assembly elections, scheduled to be held in the first half of the new year. 
Political pundits said that developments are unfolding one after another, as both the camps want to get hold of the party and symbol. 
Samajwadi Party Supremo Mulayam Singh Yadav, in a major political development today, sacked Akhilesh Yadav from all party posts for six years. 
Along with the CM, Mulayam also sacked his cousin and party General Secretary Ram Gopal Yadav for a similar time period.
This has come within hours after Ram Gopal called for an emergency meeting of the Samajwadi Party representatives on January 1.
Sources said that the meeting could see Akhilesh's anointment as the party's national president, thus handing him control over SP, a party that was formed by his father and octogenarian leader Mulayam Singh Yadav, who has held the CM's post thrice, before handling over the reins of the state to his son, who is in his fifth year in office.  
This has caused panic in the MSY camp. What makes matters worse for them is the fact that around 75 per cent of the party MLAs are said to be in support of Akhilesh.
MSY, in a hurried called press conference, while sacking both his son and cousin, termed the party representative meeting, called by Ram Gopal, unconstitutional and warned party members not to attend it.  
Ram Gopal, who came on national TV minutes after his brother concluded his press conference, stood his ground and said that he was within the limits to call for executive meeting. 
Given the aggression of both the warring factions, a compromise is unlikely within the SP clan, and the party is set for a split. 
The biggest questions is who would be the BOSS in SP - Akhilesh or MSY.   
The dawn of the next year on January 1 could well decide the future of SP in the coming polls and after it.