Will do everything to secure justice for Kulbhushan Jadhav, Rajnath Singh tells Parliament
Rajnath Singh said that 'New Delhi will do everything required to secure justice for Kulbhushan Jadhav'.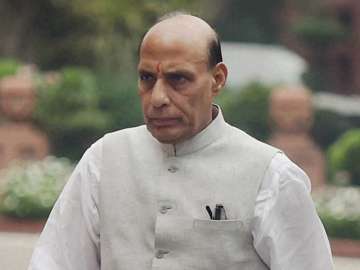 India TV Politics Desk
New Delhi
April 11, 2017 13:52 IST
Union Home Minister Rajnath Singh today assured the Lok Sabha that the Government of India will make all efforts to ensure justice for former Indian naval officer Kulbhushan Jadhav who has been awarded death sentence by a Pakistani military court on charges of being an undercover RAW agent.
Speaking on the floor of the House after Speaker Sumitra Mahajan allowed all parties to speak on the issue during Question Hour, Singh said that 'New Delhi will do everything required to secure justice for Jadhav'.
" The government condemns the sentence handed by Pakistan. I would like to assure the House that whatever needs to be done to provide justice to Jadhav, we will do," Singh said.
Singh also mentioned that Pakistan ignored 'basic norms of law and justice' in sentencing Jadhav.
According to Singh, Jadhav was kidnapped from Tehran and cannot be a spy as claimed by Pakistan.
"Jadhav was produced as an Indian spy in front of the Pakistani media," Singh said.
"Pakistan has said a valid Indian passport has been found from Jadhav. If he was having a valid passport, how can he be a spy? This question does not arise," the Minister said.
A Pakistan Army statement on Monday said that Jadhav was arrested from Balochistan on March 3, 2016, and charged with 'espionage and waging war against Pakistan'.
Singh said that Jadhav, whose family lives in Mumbai, had gone to Iran for business purposes and was kidnapped by Pakistan.
A Pakistani statement described Jadhav, who allegedly used the alias Hussein Mubarak Patel, as an Indian Naval officer attached to the Research and Analysis Wing (RAW).