'Parents will desist naming their sons as Akhilesh': Adityanath likens UP CM to Aurangzeb, Kans
India TV Politics Desk
Bhadohi
07 Mar 2017, 13:08:50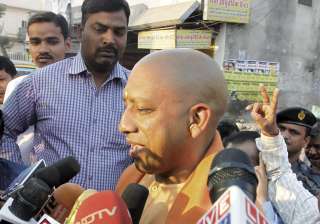 Source: PTI
Bhartiya Janata Party (BJP) star campaigner Yogi Adityanath today likened Uttar Pradesh Chief Minister Akhilesh Yadav with Aurangzeb and Kans, saying parents will now desist naming their sons Akhilesh.
"Akhilesh did what Aurangzeb and Kans did not do. Due to his deeds, now parents will desist naming their sons as Akhilesh," BJP MP from Gorakhpur said at an election meeting here.
Aurangzeb was a controversial Mughal ruler, while the mythological character of Kans is considered the tyrant ruler of Vrishni kingdom with its capital at Mathura.
Attacking Samajwadi Party government, Adityanath questioned the work done in last five years. 
"Akhilesh is now saying that he would develop the state in next five years, if given a chance, but what was he doing in the past five years?" the MP asked.
The firebrand MP said the Akhilesh government patronised terrorists, anti-socials and rapists during its five-year rule.
"Whatever scheme the government ran, it was only for a particular community," he alleged.
Listing out the work which the BJP would do if voted to power, Adityanath said, "We will promote traditional industries and send bangles to Akhilesh and Rahul Gandhi from Firozabad bangle industry and constitute anti-Romeo squad for UP minister Azam Khan."
He said a BJP government in Uttar Pradesh will pave way for Ram temple and that money will be spent on development.
A highly-charged final phase of campaigning for the Uttar Pradesh polls culminated today with the show of strength by the BJP, the SP-Congress combine and the BSP in PM Narendra Modis Varanasi constituency taking centre stage where he camped for three days.
40 seats spread over seven eastern districts, including five in Varanasi, will go to polls on March 8, bringing curtains down on the two month-long exercise staggered in seven phases. 
(With PTI inputs)