For a change, Yogi govt may strengthen THIS Samajwadi Party project
In a presentation the police department is to soon make to Chief Minister Yogi Adityanath, 1090 has been included as a successful project that needs to be followed up with more manpower and financial muscle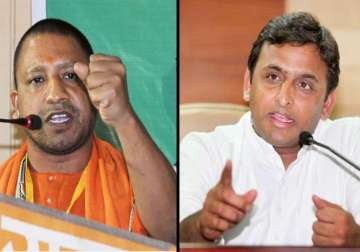 Source: PTI
India TV Politics Desk
Lucknow
April 05, 2017 16:01 IST
Ever since he took charge as the Chief Minister of Uttar Pradesh, Yogi Adityanath has kept a close eye on all the 'ambitious' projects of the previous government.
He visited the Gomti riverfront in the capital just days after taking charge of the state, and later ordered an inquiry.
Recently, the saffron-clad CM ordered removal of pictures of Akhilesh Yadav from all the ration cards and is also set to act on 18 other schemes that bear the 'Samajwadi' tag.
However, there is one scheme that the current CM may spare, and, if sources are to be believed, even strengthen.
Akhilesh's ambitious '1090: Women Powerline' scheme may see a major upgrade, sources said.
The helpline has provided relief to millions of girls and women against sexual harassment, pesky calls and lewd comments on phones, in the past five years.
"In a presentation the police department is to soon make to Chief Minister Yogi Adityanath, 1090 has been included as a successful project that needs to be followed up with more manpower and financial muscle" news agency IANS said in its report.
Interestingly, Akhilesh Yadav, who regularly boasted of the project during his poll campaigns and media interviews, never visited its 'corporate office look alike' headquarter in Lucknow's posh Gomti Nagar area, a few kilometres away from CM's official residence at 5 KD road.
Dimple, the former CM's wife and MP, visited it twice. 
Unlike government and police properties in Uttar Pradesh that present a depressing picture of cluttered and cramped spaces, dingy, dirty and paan-spattered rooms with carelessly dumped files collecting dust and cobwebs, the sprawling 1090 office is a pleasant surprise.
Walls painted in pastels, colourful blinds, smiling faces of policewomen, a coffee maker and an ambience enhanced by portraits of women achievers.
But the corporate sheen of the office is much more than mere looks. Growing from a skeletal staff of a handful and 20 computers on Bhaiyyadooj on November 15, 2012, to its present envious status as one of the most tom-tommed projects of the Samajwadi Party (SP) government, the track record of the 1090 speaks volumes.
Headed by the young and dapper Navneit Sekera, a 1996 batch IPS with a B.Tech degree from the Indian Institute of Technology - Roorkie and an MBA from the Indian School of Business, the women powerline has earned praise from all. 
In the past five years it has registered a whopping 723,000 complaints, of which 713,000 have been disposed off. Of these, 88 per cent were complaints regarding harassment on phone, seven per cent regarding harassment at public places and a mere two per cent each about harassment at social networking sites and domestic violence.
Sekera told IANS how, before the inception, they conducted a study on what girls and women face and what they are looking for. Indian Institute of Management - Lucknow teaching faculty and students were roped in to conduct a study. 
From 142,000 in 2013 to almost 200,000 in 2016, girls are coming out with their problems of harassment with greater confidence than ever before. From January 1 to March 31 this year, as many as 62,058 complaints have been registered -- 689 per day -- and 52,791 resolved. 
The new dispensation is expected to give more teeth to the 1090 scheme in the form of manpower and budget, and the staff here hope that Adityanath will visit them sooner or later -- and see for himself the work they do and the change they have ushered in. 
( With inputs from IANS)