'You don't know how to write to a CM,' Mamata Banerjee responds to Manohar Parrikar
West Bengal Chief Minister Mamata Banerjee today hit back at Defence minister Manohar Parrikar for accusing her of demoralising the armed forces and took strong exception to the comments made against her. Mamata, in a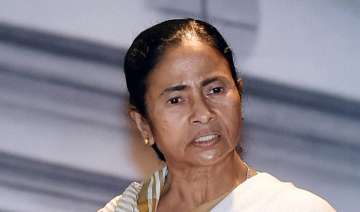 India TV Politics Desk
New Delhi
December 09, 2016 19:58 IST
West Bengal Chief Minister Mamata Banerjee today hit back at Defence minister Manohar Parrikar for accusing her of demoralising the armed forces and took strong exception to the comments made against her.
Mamata, in a statement in reply to Manohar Parrikar's letter said, "I take strong exception to your wild assertion that my articulation of rights of the state government has impacted the morale of armed forces."
Expressing anguish at the accusations made by the Defence Minister, Mamata said, "They don't know how to write to a Chief Minister."
The Trinamool Congress supremo went ahead to blame the government for using the Army for political purposes. "During my long political and administrative life, have never seen such political vendetta by misusing the role of an esteemed organisation (army)," she said in her statement.
Earlier, Parrikar had written a stinging letter to the Trinamool chief, asking her to be 'extremely careful when mentioning armed forces'.
"I am deeply pained by your allegation as reported in the media. If only you had inquired with the concerned agencies of the state government, you would have come to know the extensive correspondence between the Army and the state agencies including the joint inspection of sites carried out by them," the letter dated December 8 read. 
Banerjee had sparked a controversy last week after she questioned the presence of Army personnel at state toll plazas and asking if it was an 'Army coup'. She had claimed that the Centre of deploying the Army in the state without seeking permission. She had even stayed put for over 30 hours at the Secretariat protesting against the deployment of the Army.
The Army, however, released a set of nine communications with different agencies of the West Bengal government, including the RTO on the matter. The letters by the Army had been duly received by the agencies. 
The Army had also said that the exercise was postponed at the request of the police in view of the Bandh called against demonetisation drive. 
Parrikar had earlier rubbished the allegations by calling it 'political frustration' of Banerjee.