Delhi Polls: 33% of AAP's Delhi funds from Karnataka & Maharashtra
New Delhi: Aam Admi Party (AAP) has raised most of its funds to contest Delhi polls from Maharashtra and Karnataka which amount to almost 33% of the sum total.According to AAP spokesperson Pankaj Gupta, the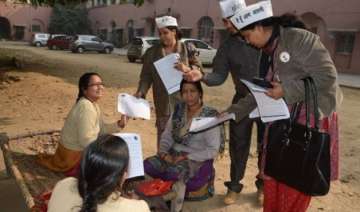 India TV News Desk
January 29, 2015 8:56 IST
New Delhi: Aam Admi Party (AAP) has raised most of its funds to contest Delhi polls from Maharashtra and Karnataka which amount to almost 33% of the sum total.
According to AAP spokesperson Pankaj Gupta, the party has collected funds from nearly two lakh donors in India and Indians living in 63 other countries.
About 30 per cent of the Rs 10.30 crore collected by AAP in the past two months has come from Indians in the US, Canada, UAE, UK and the others.
Volunteers from Mumbai and Bengaluru have taken a sabbatical or break from work and studies and are trying to raise funds for the party.
Shweta Shetty, a Bengaluru-based business executive in Bengaluru who has donated to the party said, "We want to see if the experiment works".
She admitted being doubtful about the party initially and is now judging it on the basis of their 49 days of governance. She feels AAP's ideology which is above caste and religious calculations, is closest to what she wants to see in a ruling party.
Attacking Congress and BJP for shirking away from responsibilities, Mayank Gandhi of AAP, said, "The transparent funding model we are talking of have made people think that it is a good idea for the nation. Both the Congress and the BJP are status quoist parties. We represent alternative politics,"