A first time, says Rahul on Obama's praise for Modi
New Delhi: Congress vice president Rahul Gandhi on Wednesday mentioned US President Barack Obama's praise for Prime Minister Narendra Modi in the latest issue of Time magazine and called it a "first time".The Congress vice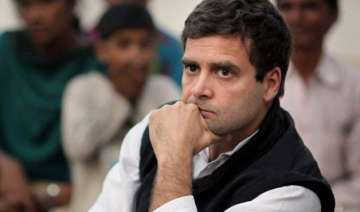 IANS
April 22, 2015 16:02 IST
New Delhi: Congress vice president Rahul Gandhi on Wednesday mentioned US President Barack Obama's praise for Prime Minister Narendra Modi in the latest issue of Time magazine and called it a "first time".
The Congress vice president, speaking as soon as zero hour began in the lower house, said: "I was at the Congress president's (Sonia Gandhi) house and I saw Time magazine... Obama ji has written a long article praising Modi."
"It is perhaps first time in 60 years the US president has praised someone like this," he said.
"Obama is not a small man... World's biggest industrialists are in the US...Earlier, the US presidents used to praise (former USSR leader Mikhail) Gorbachev," he said.
Obama wrote a profile of Modi, titled 'India's reformer-in-chief', for Time magazine.
He wrote that Modi's life story - his rise from poverty to become India's prime minister - is symbolic of the country's dynamism and potential.
Even though the Gandhi scion felt it was the first time an Indian prime minister has been praised by a US president, Obama has earlier heaped praise on former prime minister Manmohan Singh as well.
In June 2010, at the G20 summit in Toronto, Canada, Obama had praised Manmohan Singh as a statesman and said: "I can tell you that here at G20, when the prime minister speaks, people listen.
In a telephonic conversation with Singh whose tenure was about to get over, Obama had said, "I will miss working with you and hope to see you soon."