2G scam: Raja misled Manmohan, changed cut-off date to favour firms, says CBI
New Delhi: The CBI today informed a Special Court, hearing multi-crore 2G scam, that former Telecom Minister A Raja had "misled" the then Prime Minster Manmohan Singh on policy matters pertaining to allocation of spectrum.  "Raja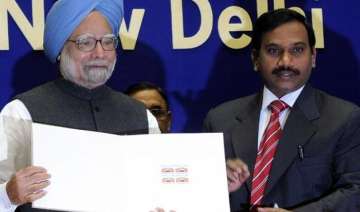 India TV News Desk
April 15, 2015 22:45 IST
New Delhi: The CBI today informed a Special Court, hearing multi-crore 2G scam, that former Telecom Minister A Raja had "misled" the then Prime Minster Manmohan Singh on policy matters pertaining to allocation of spectrum. 
 
"Raja had deliberately advanced the cut off date to favour accused firms in 2G allocation," the CBI said, adding that as a result 2G spectrum was granted to "ineligible" companies like Swan Telecom Pvt Ltd and Unitech Wireless (Tamil Nadu) Ltd.
CBI made these charges during the final arguments in the 2G spectrum allocation scam case.
In its chargesheet, the central probe agency had alleged that there was a loss of Rs 30,984 crore to the exchequer in allocation of 122 licences for 2G spectrum which were scrapped by the Supreme Court on February 2, 2012.
Raja, DMK MP Kanimozhi and others, including top corporate executives, are facing trial in the case.