Aamir Khan, Virat Kohli likely to be EC's 'national icons'
New Delhi: The Election Commission is likely to appoint Bollywood actor Aamir Khan and cricketer Virat Kohli as "national icons" who would encourage more and more people to vote in the general elections.Aamir and Kohli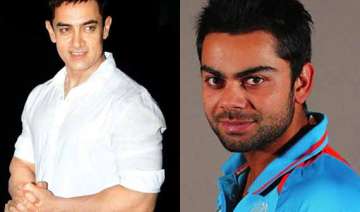 IANS
March 10, 2014 19:58 IST
New Delhi:
The Election Commission is likely to appoint Bollywood actor Aamir Khan and cricketer Virat Kohli as "national icons" who would encourage more and more people to vote in the general elections.
Aamir and Kohli are expected to join the league of four other "national icons" - cricketer Mahendra Singh Dhoni, boxer M.C. Mary Kom, badminton ace Saina Nehwal and former president A.P.J Abdul Kalam.
Sources said the national icons will reach out to people through programmes such as systematic voter education and electoral participation (SVEEP), which aims at increasing voter turnout as also quality of electoral participation in terms of informed and ethical voting.
They said the poll panel has approached Aamir and Kohli and is likely to make an announcement about their inclusion as national icons in the coming days.
Officials said there are several state-level icons, also referred to as brand ambassadors.