AAP an aberration, won't repeat its election magic: Sharma
New Delhi: Terming the emergence of the Aam Aadmi Party (AAP) an "aberration," the Congress has said that its magic won't be repeated in the upcoming general elections."It is an aberration," senior Congress leader and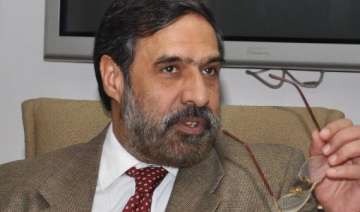 PTI
March 23, 2014 14:28 IST
New Delhi:
Terming the emergence of the Aam Aadmi Party (AAP) an "aberration," the Congress has said that its magic won't be repeated in the upcoming general elections.
"It is an aberration," senior Congress leader and Minister for Commerce and Industry Anand Sharma told PTI, adding that the AAP would "certainly not" be able to reprise its Delhi assembly electoral performance in the forthcoming Lok Sabha elections.
The nine-phase Lok Sabha polls, which starts on April 7, concludes with the counting of votes on May 16.
"They (AAP) are self-professed anarchists who do not believe in the system but want to destroy the system and have no alternative model to offer," Sharma said.  AAP, born out of Anna Hazare's anti-corruption agitation, created history by winning 28 seats in the 70-member Delhi assembly elections on its debut.