AAP completes 49 days in power
New Delhi: The Arvind Kejriwal-led Aam Aadmi Party today completed 49 days in power in Delhi during which it has taken several significant decisions, including subsidy on power, water, formation of DDC, among others.The period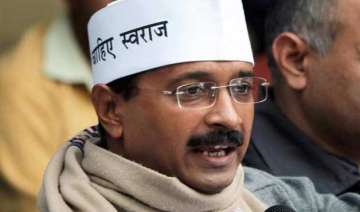 PTI
April 03, 2015 23:38 IST
New Delhi: The Arvind Kejriwal-led Aam Aadmi Party today completed 49 days in power in Delhi during which it has taken several significant decisions, including subsidy on power, water, formation of DDC, among others.
The period also saw the beginning of registration process of property in unauthorised colonies and announcing of Rs 1 crore compensation to kin of uniformed forces personnel killed in the line of their duty.
In the last seven weeks since its stunning victory in the Assembly polls, the government has also come in for heavy criticism over its refusal to issue funds to cash-strapped municipal corporations and on the appointment of 21 AAP MLAs as Parliamentary Secretaries to all ministers.
In its first major decision after coming to power, the AAP government announced 50 per cent subsidy on monthly power consumption on up to 400 units and free 20,000 litres of water per month to all households, costing the exchequer around Rs 1,670 crore annually.
In the last 49-day rule too, it had taken the same decisions first, providing a huge relief to masses. But unlike the last time, the Kejriwal government is not taking "quick" decisions and is treading caoutiosuly.
Chief Minister Kejriwal does not hold any portfolio, but has assigned many important ones to his aide Manish Sisodia who has been made the Deputy Chief Minister, a post created for the first time in the government.
The AAP Government has also formed Delhi Dialogue Commission (DDC), an advisory body of the city government, to give suggestions on implementing its 70-point poll agenda, under the chairmanship of the Chief Minister.
The city government has also decided to strengthen the Anti Corruption Branch (ACB) by increasing funds from Rs 8 crore to 15 crore and inspector posts to 40.
Kejriwal will re-launch the anti-corruption helpline number to enable people to directly report against corrupt officials to the government.
In the 49 days, it has also decided to deploy personnel of home guards and civil defence at dark spots across the capital to ensure women's safety. It has also plans to deploy marshals on DTC buses.
For the first time, the AAP government appointed 21 MLAs as Parliamentary Secretaries to assist ministers in their office work though the move drew criticism from the Opposition, saying that it is wasting money.The Kejriwal government was also criticised by the BJP for not granting funds to cash-strapped municipal corporations which are led by the saffron party.
However, Deputy Chief Minister directed officials to release the share of civic bodies' funds on the first day of new financial year, asking them to release salaries of sanitation works immediately.