Exclusive: AAP getting affected by 'personality cult' politics, says Yogendra Yadav
New Delhi:  Former Aam Aadmi Party (AAP) leader Yogendra Yadav who has been expelled from the party today said that AAP is getting affected by 'personality cult' politics.In an exclusive interview to IndiaTV, Yogendra Yadav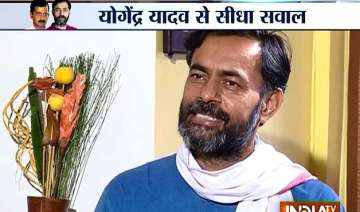 India TV News Desk
April 22, 2015 8:15 IST
New Delhi:  Former Aam Aadmi Party (AAP) leader Yogendra Yadav who has been expelled from the party today said that AAP is getting affected by 'personality cult' politics.
In an exclusive interview to IndiaTV, Yogendra Yadav said that  he was hopeful of a fair probe will be conducted into the allegations that were levelled against him but he was denied that.
The expelled leader however said that AAP as a party is clean when it comes in comparison to other  political parties but there is a serious flaw in the party leadership or the people who are guiding Arvind Kejriwal.
 He also mentioned that that the party workers and volunteers are his biggest critics and it is up to them to decide whether it was a right decision to expel  him and Prashant Bhushan.
 Yadav said that people in this country looked at AAP as an alternative to other parties which have been looting the country over the years but now people are loosing hope in the manner AAP has been functioning.
He  also said that AAP is also affected by 'personality' politics prevalent in  others parties like DMK and Shiromani Akali Dal(SAD). Yogendra further added that those political parties which were formed after any movement has been hijacked by a particular leader and the party has deviated from the main motif for which it has been created.
When asked if he would form a new party,  Yogendra  said that he will need some time to think over it but  reiterated that the country needs swaraj and he will do whatever  needs to be done to clean the politics in the country.