AAP has no time for farmers, shedding crocodile tears: Congress
New Delhi: Accusing AAP of "shedding crocodile tears" in support of farmers over their proposed rally against Centre's Land Acquisition Bill, Congress today said the Arvind Kejriwal-led outfit has no time to reach out to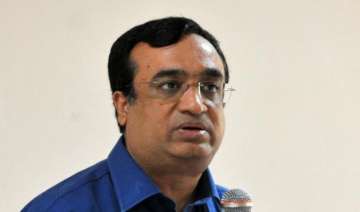 PTI
April 04, 2015 23:44 IST
New Delhi: Accusing AAP of "shedding crocodile tears" in support of farmers over their proposed rally against Centre's Land Acquisition Bill, Congress today said the Arvind Kejriwal-led outfit has no time to reach out to the peasants in Delhi who have been affected by unseasonal rains.
Delhi Congress chief Ajay Maken also hit out at AAP's internal tussle, saying the ruling party did not have time to meet affected farmers living just 5 km away.
"AAP has suddenly woken up to farmers' plight. Despite the fact that Delhi farmers have been going through a difficult phase after unseasonal rains hit the state, no one from AAP visited villages to enquire about farmers' problems as they were fighting with each other. But now they are shedding crocodile tears in the name of farmers' welfare," he said.
Maken also noted that Chief Ministers of Haryana, Uttar Pradesh, Punjab and Rajasthan have been visiting villages in their states to find out the volume of loss and sought compensation from Centre, while AAP leaders have no time to come out of Delhi Secretariat.
"AAP (leaders) seem to have no time to come out of Delhi Secretariat and meet farmers living just 5 km away and seek compensation for them," he said.
On the other hand, Maken claimed, Congress leaders including party president Sonia Gandhi and himself were first to reach out to farmers to assess their plight and measures required to give immediate relief to farmers and sought compensation from Centre and state government.
"The AAP has decided to hold a rally in Delhi now, for it knows well that when its men will go to villages to seek support for the march, farmers will not allow them to enter villages for neglecting them.
"Farmers have very well understood AAP's game plan and will not believe in their sweet talk anymore," he added.
AAP had yesterday announced that it will hold a protest march from Jantar Mantar to Parliament on April 22 to protest the land bill.