AAP launches road rallies in UP by attacking Congress, BJP
Moradabad: Seeking to broaden his appeal in Uttar Pradesh, AAP National Convener Arvind Kejriwal today attacked BJP and Congress, saying there will be no change in corruption and inflation even if Narendra Modi or Rahul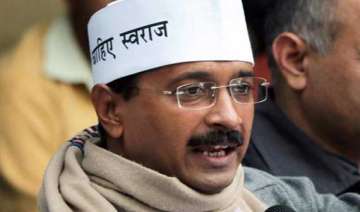 India TV News Desk
March 01, 2014 23:20 IST
Moradabad:
Seeking to broaden his appeal in Uttar Pradesh, AAP National Convener Arvind Kejriwal today attacked BJP and Congress, saying there will be no change in corruption and inflation even if Narendra Modi or Rahul Gandhi comes to power.
He also lashed out at the Samajwadi Party and BSP stating that both Mulayam Singh Yadav and Mayawati have corruption cases pending against them.
Addressing his supporters at a road rally undertaken by the party, the AAP leader said, "Whether (Congress Vice-President) Rahul Gandhi or (BJP's) Narendra Modi come to power there will be no affect on price rise and corruption. Beware of these two parties."
"And this BSP and SP, both Mulayam Singh Yadav and Mayawati have cases pending against them in CBI courts," Kejriwal said.
He also lambasted the Congress and BJP for staying mum over the Reliance gas price issue.
The AAP government in Delhi had ordered the Anti- Corruption Branch (ACB) to register an FIR against Reliance Industries Chairman Mukesh Ambani and Union Petroleum Minister Veerappa Moily over the alleged irregularities in the Krishna-Godavari gas pricing issue.
"Congress has given a partying gift to the Ambanis. I wrote to Modi on this issue seeking his opinion, but he has not replied to the letter," he said.
Kejriwal said that from next month there will be hike in the gas price and this will have an impact on everyone.