AAP likes to create scenes: Jaitley
New Delhi : BJP leader Arun Jaitley Thursday accused the Aam Aadmi Party (AAP) of having the "routine strategy" to gather their cadre and "create a scene".His attack came a day after AAP workers' protest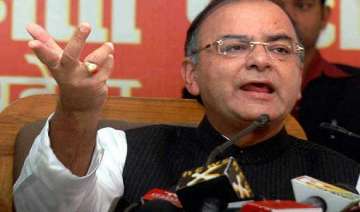 IANS
March 07, 2014 6:56 IST
New Delhi :
BJP leader Arun Jaitley Thursday accused the Aam Aadmi Party (AAP) of having the "routine strategy" to gather their cadre and "create a scene".
His attack came a day after AAP workers' protest outside the Bharatiya Janata Party headquarters here following detention of their leader Arvind Kejriwal in Gujarat turned violent and became a pitched battle between members of the two parties.
"What happened yesterday is no longer intriguing. It is a normal strategy of the votary of alternative politics in India. The routine strategy of the Aam Aadmi Party has been to utilize its cadre network through SMS, assemble them at particular places and create a scene," Jaitley wrote in his blog.
About Wednesday's protest, he claimed stones were pelted into the BJP office, billboards were demolished and a prominent AAP member climbed on to the wall virtually trespassing into the property.
"After provoking and altercation with BJP cadres and police in various parts of the country the Aam Aadmi Party leaders landed up in TV studios. They pretend to be innocent victims," he claimed.
Jaitley said Kejriwal was not arrested or detained in Gujarat.
"All of us in various elections are stopped and checked; our personal baggage is also searched to verify whether cash is being transported in them or not. We always accept that as part of the Election Commission's efforts to conduct free and fair elections. But Kejriwal makes his non-detention into a national crisis," he said.
Accusing AAP of manufacturing issues, real or fictional, and then persisting with them, Jaitley said the party was unable to defend its disastrous 49-day performance in Delhi.