AAP rebel camp to hold 'Swaraj Samvad' today
New Delhi: Disgruntled Aam Aadmi Party (AAP) leaders Yogendra Yadav and Prashant Bhushan will today hold a 'Swaraj Samvad' convention in Gurgaon to discuss the future course of action after their expulsion from party's top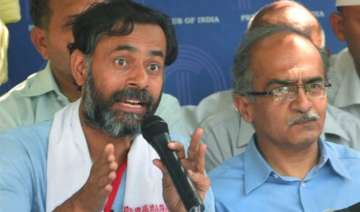 PTI
April 14, 2015 11:42 IST
New Delhi: Disgruntled Aam Aadmi Party (AAP) leaders Yogendra Yadav and Prashant Bhushan will today hold a 'Swaraj Samvad' convention in Gurgaon to discuss the future course of action after their expulsion from party's top echelons.
Sources close to Yadav and Bhushan said the rebel camp will not announce floating of a new party, but will raise issues of inner-party democracy and transparency in the organisation at the event. 
Yadav said they have received tremendous response from the volunteers across the country and this has compelled them to change the venue. 
"We have given an open invitation to everyone about this. We have got an overwhelming response for the event and this has forced us to change the venue. From different corners of country, volunteers and supporters will be attending the event. Some special guests will also attend the meeting," he said. 
Taking a jibe at the rival camp, Yadav said that the whole event will be transparent, media will be allowed and even carrying of pens and mobile phones will be permitted. 
In the National Council meeting last month, which expelled the duo from the National Executive, media was not allowed neither were volunteers allowed to carry mobile phones and pens. 
"Swaraj, which we think, has the possibility of changing the politics should also be there in our programme. All volunteers will be allowed to ventilate their grievances and decisions will be subjected to voting. The dialogue process will put to rest all the confusion and we will be able to take some decision by the end of the convention," Yadav said. 
Meanwhile, the party has warned of action against those planning to attend the meeting. 
Senior party leader Sanjay Singh said AAP's all-powerful Political Affairs Committee (PAC) and its National Executive would decide the next move in this regard after the meeting. 
"Swaraj Samvad is not a party function. The PAC and NE will decide on what action needs to be taken after the meeting," Singh told reporters here.