AAP refers case against rebels to its disciplinary committee
New Delhi:  AAP today took a step further in removing rebel leaders Prashant Bhushan and Yogendra Yadav from the party and referred their case to its disciplinary committee, a day after the dissidents organised 'Swaraj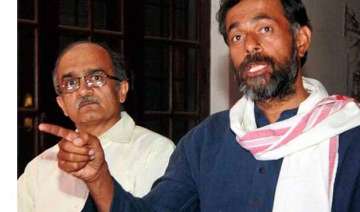 PTI
April 15, 2015 23:29 IST
New Delhi:  AAP today took a step further in removing rebel leaders Prashant Bhushan and Yogendra Yadav from the party and referred their case to its disciplinary committee, a day after the dissidents organised 'Swaraj Samvad' convention.
The all-powerful Political Affairs Committee (PAC) of AAP also referred the case of Anand Kumar and Ajit Jha, who were removed from the National Executive along with Bhushan and Yadav, to the disciplinary panel.
The decision was taken at the PAC meeting, chaired by Delhi Chief Minister Arvind Kejriwal at his Civil Lines residence here this evening. This is one of the final stages of expelling the rebel leaders from the party after they were sacked from AAP's top echelons, party sources claimed.
"The PAC has taken into consideration anti-party activities (of the leaders) over the past few months. There was a discussion of floating a new party at the Swaraj Samvad, which itself is anti-party in nature.
The PAC has referred the case of Yogendra Yadav, Prashant Bhushan, Prof. Anand Kumar and Ajit Jha to National Disciplinary Committee of the party.  "The next step and decision will be take by the disciplinary committee," senior AAP leader Sanjay Singh told reporters after the meeting.
No action has been taken yet against AAP's Timarpur MLA Pankaj Pushkar, who is in the core group of Swaraj Abhiyan, or party MP Dharamvira Gandhi, who had protested the sacking of the rebel leaders in the National Council meeting. The party had warned its leaders and volunteers of action if they attended the convention.
Bhushan had been heading the disciplinary committee until he was removed from the panel last month. The three-member committee is now headed by Dinesh Waghela and its other members are Pankaj Gupta and Ashish Khetan.