Kumar Vishwas targets Rahul Gandhi, to hold farmers rally tomorrow
New Delhi: Aam Admi Party leader Kumar Vishwas today took a jibe at Congress vice-president Rahul Gandhi for his 'new found love for farmers' and challenged him to distinguish between the crops of pearl millet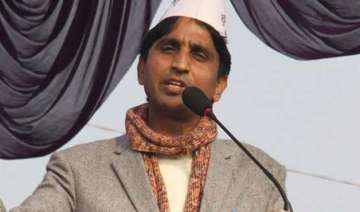 India TV News Desk
April 22, 2015 7:20 IST
New Delhi: Aam Admi Party leader Kumar Vishwas today took a jibe at Congress vice-president Rahul Gandhi for his 'new found love for farmers' and challenged him to distinguish between the crops of pearl millet and wheat.
The party's recent move came after Rahul's scathing attack on ruling BJP government over farmer's issues. Rahul gave two speeches in two days targeting Prime Minister Narendra Modi government after he came back from his 59 days long sabbatical. AAP seems to be concerned about Rahul taking all the credit and being viewed as farmers' crusader.
"Mai Rahul ji ko chunauti deta hun, agar wo 5 kheton mein bta dein ki baajra kaun sa hai aur gehun kaun sa to hum rajneeti chhod denge (I challenge Rahul if he can distinguish between the five fields of pearl millet and wheat, I will quit politics)" said the poet turned politician.
National spokesperson of AAP, Vishwas announced that his party will hold a rally at Jantar Mantar with the farmers of Delhi and other states to protest against Central government's attitude towards the community.