AAP: Yadav drums up support for April 14 convention
Chandigarh: In a bid to bolster support for the upcoming convention organised by him and Prashant Bhushan, dissident AAP leader Yogendra Yadav today spoke to volunteers in Chandigarh and apprised them of the "truth" behind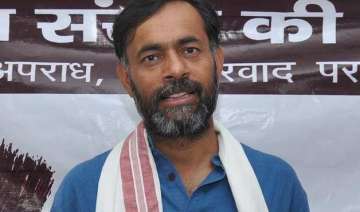 PTI
April 07, 2015 21:32 IST
Chandigarh: In a bid to bolster support for the upcoming convention organised by him and Prashant Bhushan, dissident AAP leader Yogendra Yadav today spoke to volunteers in Chandigarh and apprised them of the "truth" behind the rift in the party.
In his address, Yadav responded to the queries of scores of volunteers and said that the party will stay true to its core values as long as workers "question the leadership and its decisions".
"Volunteers meet in Chandigarh... Where a vow was taken to work with renewed vigour and remain loyal to the founding principles of Aam Aadmi Party," the twitter handle of 'Swaraj Samwad' said.
"He spelt out the truth to the gathering of volunteers who had a lot of queries. He gave a patient hearing to all the questions and responded to each of them in his closing speech," a leader present at the meeting said.  
Yadav will be attending another volunteers meet, termed as "preparatory meets" by his loyalists, on April 9 in Lucknow in the run up to the scheduled dialogue near Gurgaon's IFFCO Chowk on April 14 to muster support among the party volunteers that has been rocked by differences among its top brass.  
Yesterday, the Yadav camp had claimed to have received an "overwhelming response" from 27 states for the dialogue.  Incidentally, Punjab and Uttar Pradesh have witnessed many state leaders being suspended by the AAP brass in an attempt to crack the whip on the dissidents.  
According to sources, some 610 volunteers from Delhi, 476 from Uttar Pradesh, 219 from Bihar, 192 from Haryana and 140 from Maharashtra have already signed up for the convention.  
The Yadav-Prashant Bhushan camp is using social media sites such as Facebook, where it has garnered more than 5,000 likes, and Twitter to publicise the dialogue scheduled on Ambedkar Jayanti.
The rebel group has already released a pre-invite for the event, which is to be held from 10 A.M. to 5 P.M., saying it involves "restarting" the journey of alternative politics so as to remain true to the "original spirit" of the 'andolan'.