Actor Aamir Khan meets on Narendra Modi
New Delhi: Actor-producer Aamir Khan Monday called on Prime Minister Narendra Modi, the Prime Minister's Office said.The meeting at South Block here was described as a "courtesy call".The prime minister's official web site posted images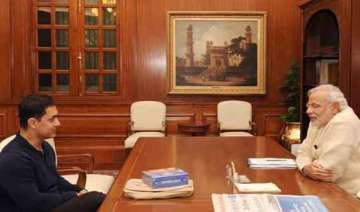 India TV News Desk
June 26, 2014 12:36 IST
New Delhi
: Actor-producer Aamir Khan Monday called on Prime Minister Narendra Modi, the Prime Minister's Office said.
The meeting at South Block here was described as a "courtesy call".
The prime minister's official web site posted images of Modi and Aamir Khan shaking hands.
Aamir Khan, who has been championining a raft of social issues, met Prime Minister Narendra Modi on Monday to discuss the problems which he highlights in his TV programme Satyamev Jayate.
Khan tweeted out about his meeting with PM as well saying, "Just came out of my meeting with Honorable Prime Minister of India Shree Narendra Modiji. Was very kind of him to spare his valuable time."
He added in another tweet, "Shared with him the overwhelming support that we got from people across the country through 'Vote for Change' campaign on SMJ (Satyamev Jayate) on the various issues that we tackled in our show.
He has assured me that he will look into all the matters." Khan also tweeted out a picture of Modi and him interacting in the PM's office.
The 'Vote for Change' episode, which was aired in the run up to the last Lok Sabha elections, focused on criminalisation of politics in India while urging the voters to cast their votes to make a difference.
Aamir Khan was seen with a DVD set of his TV show Satyamev Jayate while he was speaking to Modi at the Prime Minister's Office.
Aamir Khan had last week said he had "great expectations" from Modi and asked people to cooperate with the prime minister.
"Modi Saheb has talked of benefiting people, especially the poor and bringing happiness to their lives. We should be cooperative with him so that he achieves his goal," he had said in Bhopal on June 16.
"People and I have great expectation from Modi Saheb," he said.