Advani To Quit After New Party President Takes Over: RSS
Setting aside reports that Leader of Opposition L K Advani might exit from politics on his birthday tomorrow, RSS has said the senior BJP leader would step down only after overseeing the taking over of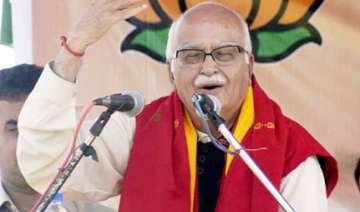 PTI
November 07, 2009 17:37 IST
Setting aside reports that Leader of Opposition L K Advani might exit from politics on his birthday tomorrow, RSS has said the senior BJP leader would step down only after overseeing the taking over of a new party president early next year.
"The present BJP president completes his term in December. By the time the formalities for taking over by a new president are completed it would be January end. Once that is done, Advani will step down as was decided earlier," RSS leader Ram Madhav told PTI.
Earlier, there were reports that Advani might quit politics on his birthday.
The RSS leadership had asked Advani to choose his successor as well as ensure a smooth change of leadership after party president Rajnath Singh completes his term in December.
A BJP leader echoed similar sentiments, saying Advani is not stepping down now but there is a possibility of him quitting once a new president is chosen.
This would mean Advani, who turns 82 tomorrow, may give up the post of Leader of Opposition in Lok Sabha in February-March 2010, party sources said.
"However, the issue has not been discussed afresh. These decisions were taken last month when a series of meetings were held between the RSS chief (Mohan Bhagwat) and BJP leadership," Madhav said.
Meanwhile, Bhagwat said in an interview to a news channel that he was told by BJP leaders that the party's new president will be from outside Delhi.
Bhagwat said the names of senior leaders Arun Jaitley, Sushma Swaraj, M Venkaiah Naidu and Ananth Kumar for the top post have been ruled out.
RSS and BJP top brass have reportedly agreed that the new party president would be somebody with a Sangh background, not more than 60 years of age, dynamic and capable of taking along all sections of the party and the Sangh.
 The process of choosing a new BJP president has already begun. Sources said names were likely to be finalised by the end of November and a consensus reached on the next incumbent by December end.
 Rajnath Singh is likely to relinquish office sometime in January, though officially his term would come to an end on December 31.
With the four senior leaders from Delhi being ruled out for the top post, sources said Deputy Leader of Opposition in Lok Sabha Sushma Swaraj succeeding Advani would be a "logical move".
 Arun Jaitley has already been appointed as Leader of Opposition in the Rajya Sabha.
However, Rajnath Singh's role after he completes his term as party president is yet to be decided. PTI