After Amarinder, Sheila Dikshit questions Rahul Gandhi's leadership qualities,retracts later
New Delhi:  In what could be another dissenting voice from within the party, senior congress leader and former chief minister of Delhi Sheila Dikshit today questioned the leadership qualities of party vice president Rahul Gandhi."There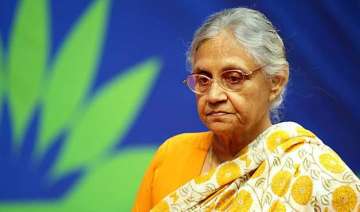 India TV News Desk
April 14, 2015 19:13 IST
New Delhi:  In what could be another dissenting voice from within the party, senior congress leader and former chief minister of Delhi Sheila Dikshit today questioned the leadership qualities of party vice president Rahul Gandhi.
"There are question marks over Rahul Gandhi's leadership qualities. Sonia Gandhi should continue to lead party," Sheila Dikshit told PTI on Tuesday.
Also Read: Sonia should retain Congress presidentship: Amarinder
"Sonia does not run away from responsibilities and challenges and Congress can rely on her for its revival," senior Congress leader said.
"There is a comfort feeling with Sonia Gandhi as she has done things which we would not have expected. She never accepted PM's post yet she made Congress win twice in general elections. So, that comfort feeling is there with her. She is a confident leader whom Congress can rely upon,"she told PTI
"That comfort feeling has yet to develop where Rahul is concerned," Dikshit said, adding it was too early to judge his leadership credential,she added
Before Sheila, similar views were expressed by former Punjab Chief Minister and Lok Sabha MP Captain Amarinder Singh who had also said that Sonia Gandhi should continue to lead the party and Rahul should continue as vice president.
Pointing out Rahul Gandhi's lack of experience in rumming the party, Amarinder had said, "In 10 years you cannot be captain of the ship. Rahul needs more experience and needs to travel when he is back. I sent email to him when he went on leave asking him to come back. Told him he was wrong. He never replied".
Asked whether Rahul will be able to steer the party if made president, Dikshit said it was too early to comment.
"It's a question of the future. How he does, what he does... When you get full responsibility, you may come out with a different colour," said Dikshit.
Meanwhile, the Congress party is finding it difficult to defend the  long sabbatical taken by Gandhi, and some senior party members are asking whether the scion of the country's most famous family is interested in politics.
"Though this is an internal matter of Congress Party but it shows that there are few takers for Congress vice-president," Sambit Patra, BJP national spokesperson said.
Gandhi, a 44-year-old bachelor parliamentarian,  is expected to return from his holiday on Wednesday, when his temporary break from political life enters the 55th day.
In February, Congress said Rahul Gandhi needed time off to reflect on electoral defeats and plot the future of the party.
"Nowhere have I said anything like this.This is being mischievously misinterpreted. Please stop it because its embarrassing for me," said Sheila Dikshit.
"I will never say anything like that, Mrs. Gandhi is a great leader thats all I said," Sheila added.