Assam Assembly polls: AGP may consider ties with BJP if proposal comes
New Delhi: The AGP is unlikely to have any alliance with the Congress in the coming Assam assembly elections but may consider any "concrete" proposal of the BJP in this regard, senior party leader and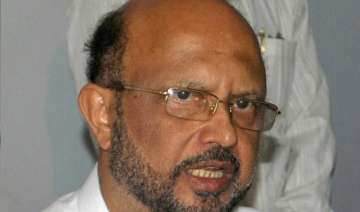 PTI
February 07, 2016 11:21 IST
New Delhi: The AGP is unlikely to have any alliance with the Congress in the coming Assam assembly elections but may consider any "concrete" proposal of the BJP in this regard, senior party leader and former Chief Minister Prafulla Kumar Mahanta said today.
"In principle, we can't have an alliance with Congress.The AGP was formed on an anti-Congress plank. So, it is not possible to have an alliance with Congress," he told PTI.
63-year-old Mahanta said the AGP has been in talks with a few smaller regional parties for an alliance but has had no discussion with BJP so far.
"There has been no discussion with BJP. If they approach us with a concrete proposal, we may discuss it," he said. Mahanta, who became Assam's Chief Minister for the first time at an age of 32 in 1985 after leading a six-year-old agitation against illegal migration from Bangladesh as president of All Assam Students Union, said a committee has been set up by AGP to take a decision on joining hands with any other political party.
Mahanta was Assam's Chief Minister between 1985 and 1990 and again from 1996 to 2001.
Interestingly, Mahanta had met senior BJP leader L K Advani in New Delhi on Friday.
"I know Advani ji for a long time. His wife was unwell and so I had visited him. It was a courtesy visit," he said. BJP and AGP had an alliance in 2009 in which the saffron party bagged four and AGP won just one Lok Sabha seat.
The two parties considered an alliance ahead of the 2014 Lok Sabha polls but the regional party had backed off, apparently with the assumption that such an understanding would not be beneficial for AGP.
In 2014 Lok Sabha polls, BJP won seven of the state's 14 seats and AGP drew a blank. BJP won in Dibrugarh, Jorhat, Nagaon, Tezpur, Lakhimpur, Mongoldoi and Guwahati, all considered to be once AGP strongholds.
Sources said AGP, led by its president Atul Bora, had few rounds of discussions with state BJP leadership on the issue of alliance and asked for at least 40 Assembly seats for AGP out of the total 126 constituencies.
However, the BJP is willing to give AGP lesser number of seats as the national party feels that the regional outfit is now on a much weaker wicket.
Sources said a few senior leaders -- Phanibhushan Choudhury, Pradip Hazarika and Durga Dasboro -- reportedly had met Chief Minister Tarun Gogoi and discussed with him the possibility of AGP-Congress alliance.
Election to 126-member Assam Assembly is expected to be held in April-May.