Ajay Maken, wife saw assets double since 2014 LS polls
New Delhi: The total assets owned by Congress leader Ajay Maken and his wife have more than doubled in the period since the Lok Sabha elections last year as the couple declared movable and immovable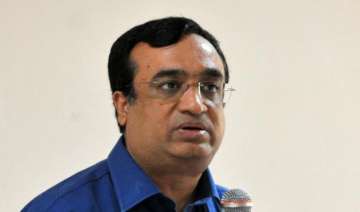 PTI
January 21, 2015 23:51 IST
New Delhi: The total assets owned by Congress leader Ajay Maken and his wife have more than doubled in the period since the Lok Sabha elections last year as the couple declared movable and immovable assets worth Rs 12.34 crore to election officials ahead of the upcoming Delhi Assembly polls.
Maken and his wife had declared total assets worth around Rs 5.76 crore in the affidavit filed at the time of the Lok Sabha elections last year.
According to details provided by the Congress leader in his latest affidavit submitted to Election Commission, Maken has movable assets worth Rs 2.99 crore while his wife owns property of Rs 1.20 crore.
For the Lok Sabha elections, Maken had declared movable assets worth Rs 2.68 crore while his wife had mentioned property of Rs 88.22 lakh.
The value of their immovable assets, which includes a residential property and land in Haryana and Delhi, has increased to Rs 8.14 crore as compared to Rs 2.21 crore last year.
Maken, Congress's Campaign Committee Chief is contesting from the Sadar Bazar Assembly seat.
The former Union Minister has one case pending against him, same as last year.
The Lok Sabha elections last year were held between April 7 and May 12.
In the latest affidavit, he has mentioned that he has Rs 2.51 lakh cash in hand while his wife has Rs 13,800.
Maken had declared a total income of Rs 14.69 lakh in 2013-14 while his wife's income in that period was Rs 19.19 lakh.