Akhilesh discusses third front possibility with Naidu
Hyderabad, July 21: Uttar Pradesh Chief Minister Akhilesh Yadav, who is on a two-day visit to Hyderabad, met the Telugu Desam Party (TDP) president N Chandrababu Naidu here tonight and discussed various political issues."I have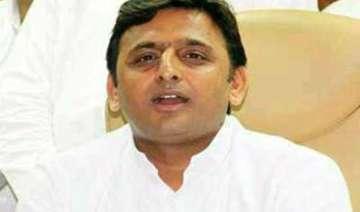 PTI
July 21, 2013 8:09 IST
Hyderabad, July 21
: Uttar Pradesh Chief Minister Akhilesh Yadav, who is on a two-day visit to Hyderabad, met the Telugu Desam Party (TDP) president N Chandrababu Naidu here tonight and discussed various political issues.
"I have discussed political issues with Chandrababu Naidu and the possibility of forming a third alternative," Akhilesh said after the meeting at the TDP chief's residence. He hailed the TDP's decision to allocate 100 seats to the backward classes and announce the candidates well in advance.
"This will benefit the BCs well. In fact, we have donea similar thing in UP," he pointed out.
The UP administration was doing well, Akhilesh said in reply to a question.
Earlier, Akhilesh met Andhra Pradesh Chief Minister N Kiran Kumar Reddy at the latter's camp residence. Kiran informed Akhilesh about the various welfare
programmes being implemented in the state, a press release from the CMO said.
UP Revenue Minister Ambika Chaudhary, Minister of State for Science and Technology Abhishek Misra, AP Revenue Minister  N Raghuveera Reddy, Secondary Education Minister K Partha Sarathy, MPs T Subbarami Reddy, Anjan Kumar Yadav and senior officials  from both states were present on the occasion.