All 39 Indian hostages in Iraq alive, says Sushma Swaraj
New Delhi: External Affairs Minister Sushma Swaraj yesterday said that 39 Indians taken hostage by Islamic State more than one-and-a-half-years ago from Mosul in Iraq were alive.The Minister said that during her recent visit to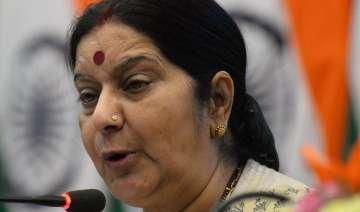 India TV News Desk
February 08, 2016 7:32 IST
New Delhi: External Affairs Minister Sushma Swaraj yesterday said that 39 Indians taken hostage by Islamic State more than one-and-a-half-years ago from Mosul in Iraq were alive.
The Minister said that during her recent visit to Bahrain, she got direct information that all 39 Indians were alive and that the entire Arab World has promised India that they will try to get the 39 free soon.
"Up until now, we were getting info indirectly but when I visited Bahrain I received information directly," she said.
Swaraj, who met the family members of these 39 people in Delhi on Sunday, said that her Ministry is in constant touch with all the governments in the region on the issue.
"The Arab side expressed full solidarity with India in all efforts for their early release from captivity," she said.
Swaraj, who had sought a meeting with the families which is the ninth since the abduction of these Indians in June 2014, also assured them that the government was 'fully and continuously engaged' and 'every possible effort' was being made to ensure their release.
The Union Minister also said that she had spoken to her counterparts in the Gulf Cooperation Council (GCC), as well as other friendly countries in the region for their assistance in the safe release of Indians in captivity.
According to official sources, Palestinian President Mahmoud Abbas had informed Swaraj that the 'Indians are alive and made to work' in war-torn Iraq as per his government's intelligence information. Swaraj had travelled to Palestine and Israel on January 17 and 18.
The Minister also referred to her visit to Bahrain on January 23 for the first India-Arab League Cooperation Forum and said during the meeting, a declaration was adopted which said, "The two sides expressed concern at the kidnapping of 39 Indian workers in Mosul in Iraq in June 2014 and 3 Indian workers in Sirte in Libya in June 2015."
These 39 Indians were captured by the terror group ISIS in Mosul over one and a half years back in June 2014 from a construction site.