Amar Singh Meets Advani
After being in the company of BJP during the anti-government protest by sugarcane farmers, SP leader Amar Singh on Friday  held a meeting with L K Advani and said but for "communal issues", the two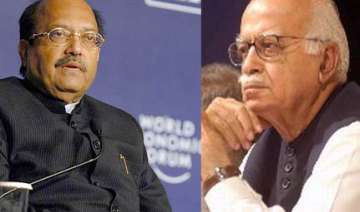 PTI
November 20, 2009 20:12 IST
After being in the company of BJP during the anti-government protest by sugarcane farmers, SP leader Amar Singh on Friday  held a meeting with L K Advani and said but for "communal issues", the two parties agree on several matters. 
Singh met the Leader of the Opposition in the Lok Sabha in the morning and discussed issues including Babri Masjid demolition and sugarcane pricing. 
 He said SP, which supports the Congress-led UPA government from outside, and the BJP agreed on many issues and could work together. 
"On communal issues, BJP and SP have differences but on several other matters like Chinese incursions into India, diverting of Brahmputra water or building of a dam by China, or Prime Minister Manmohan Singh giving his dear friend (US President) Barack Obama the right to interfere in bilateral matters, or on issues of internal security, we have similar views," Singh told reporters outside Parliament House.
He said he conveyed these views to Advani during the meeting. 
"Advani even agrees with me that there should be speedy trial of the Babri mosque demolition case. It has been 17 years since the demolition of the Babri mosque and yet the case is pending," Singh said.
But when it came to Mukesh Ambani-Anil Ambani case being heard in court these days, an eye was being kept on its hourly progress. This did not happen in the Babri mosque demolition case, Singh alleged. PTI