Amit Shah assures centre's help for Odisha's progress
Bhubaneswar: Holding that the Narendra Modi government never indulged in "discriminatory politics", BJP President Amit Shah today assured Odisha Chief Minister Naveen Patnaik that the Centre would certainly help the state for development of the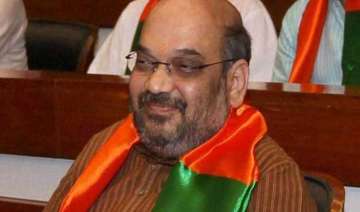 PTI
January 06, 2015 21:04 IST
Bhubaneswar: Holding that the Narendra Modi government never indulged in "discriminatory politics", BJP President Amit Shah today assured Odisha Chief Minister Naveen Patnaik that the Centre would certainly help the state for development of the region.
"Still there is a lot of time for you (Patnaik) to change the situation in Odisha. The Government of India is with the state government for development," he said, addressing BJP's well-attended 'Mahasangram Samabesh' here.
Shah's comments indicated a soft approach towards the BJD government in Odisha and the Chief Minister even as he chose to attack Congress and its Vice President Rahul Gandhi.
While BJP's state President K V Singhdeo had earlier claimed that Shah's speech would ensure sleepless nights for Patnaik, the BJP National President simply made a passing remark on the series of scams and scandals that rocked Odisha.
Criticising the BJD government's 14-years rule, Shah said while only 14 per cent of the people in the state could get safe drinking water, 22 per cent have toilets and 46 per cent of the people live below the poverty line.
He said though Odisha was once considered as a power surplus state, the situation has become worse and youths from the state migrate in search of jobs to Gujarat and Maharastra.
Underlining that Odisha was rich in natural resources like iron ore, bauxite, chromite, dolomite, coal and other minerals, he accused the state government of failing to utilise them for the betterment of the people.
Seeking people's support for BJP, Shah said the Prime Minister has the dream of ensuring inclusive growth in the country.
"The Modi government is determined to ensure the development of the eastern states including Odisha," he said, adding Odisha has all potential to become the No. 1 state in the country.
In its bid to ensure growth of Odisha and other mineral rich states, Shah said the Centre has decided to go for auction route for leasing out mines.
"Odisha and Jharkhand will get maximum benefits if the mines are put under auction," he said, adding that the state government would get the additional revenue generated from auction of mines.