Delhi polls: Amit Shah defends Kiran Bedi, says BJP won't change strategy as per media perception
New Delhi: As over a week is left for Delhi elections, BJP is trying hard to clean sweep Delhi polls.Bharatiya Janata Party President Amit Shah asked his colleagues during a meeting at the party headquarters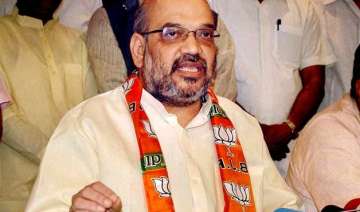 India TV News Desk
January 30, 2015 8:41 IST
New Delhi: As over a week is left for Delhi elections, BJP is trying hard to clean sweep Delhi polls.
Bharatiya Janata Party President Amit Shah asked his colleagues during a meeting at the party headquarters in the national capital on Thursday to gear up for Delhi Assembly elections.
The BJP has ratcheted up the Delhi battle with 250 rallies, 120 lawmakers out in the field and five questions a day for Arvind Kejriwal.
Shah has tasked 120 MPs including 14 Union ministers and hundreds of party workers from 13 states to campaign in Delhi. "Shah called the campaign lacklustre and was very disappointed with some of the Delhi leaders," a source said.
While one hand BJP is sketching out the plans for Delhi polls, its decision to project Kiran Bedi as its CM candidate has been widely attributed to the resurgence of AAP as well as BJP's weakness in finding a leader matching up to Kejriwal from its own ranks.
Amit Shah claims that the voters of the city have seen through AAP chief and his deception, and would not be taken in by his "populist and extravagant promises".
Shah said the projection of Bedi was influenced by "strategic considerations" as her record in fighting crime and corruption would work to BJP's advantage. He said BJP works "with a galaxy of leaders with PM Modi at the forefront" and is not centered on a personality.
Claiming that the induction of former Team Anna member Kiran Bedi as the party's chief ministerial candidate was not a "compulsion", he said her clean image would help the party.
Ruling out any rifts within the BJP, its chief Amit Shah today said that the party would emerge victorious with two-third majority in the upcoming Delhi elections.
When asked about reports suggesting that certain Delhi BJP leaders were not happy with the move to get Bedi into the fold, he said that he could not "change his strategy as per media's perception".
"Our agenda is to move from a simple majority to two-thirds majority and for that I am confident that Kiran Bedi's image..of someone who has been fighting against corruption and crime...would help," he said.
"Kiran Bedi is not fighting the election alone and the cabinet is not going to be formed by her alone, it will be formed by other workers of the BJP," he further said.
He also said that publicising the issue as a "leadership crisis" in the party only shows that the media had gone bankrupt of issues against the party.
Taking on Aam Aadmi Party chief Arvind Kejriwal head on, the BJP will ask him five question every day. Eight Cabinet ministers will address press conferences over the next eight days where they will question Kejriwal's plans for Delhi.
"Our ministers will ask questions to Kejriwal till February 6. We will ask Kejriwal about sting operations as well," said Delhi BJP President Satish Upadhyay.
A meeting of the 18-member core group, headed by Shah, took place at the headquarters of the state unit Thursday as well where the party's campaigning was discussed and reviewed.
The party also plans to plaster the city with posters; it is targeting 1000 posters in every constituency. BJP has also decided against releasing a manifesto for Delhi and instead said that there will be only a vision document for the national capital. In a bid to woo the women voters BJP's CM candidate Kiran Bedi has made a 25-point programme to ensure their safety.
Elections will be held in Delhi on February 7, nine days from now. Votes will be counted on February 10.