Amit Shah describes Janata Parivar reunion 'unethical'
Patna:  Describing the efforts of merger of Janata Parivar parties as "unethical", BJP chief Amit Shah today said his party was not bothered about it as people would reject them in the coming Bihar Assembly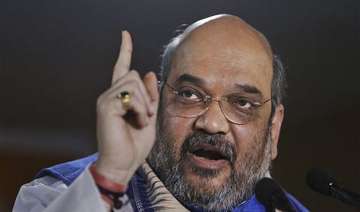 PTI
January 24, 2015 13:34 IST
Patna:  Describing the efforts of merger of Janata Parivar parties as "unethical", BJP chief Amit Shah today said his party was not bothered about it as people would reject them in the coming Bihar Assembly poll.  
"Both Lalu Prasad and Nitish Kumar all along fought against Congress. Nitish Kumar in league with BJP fought against Lalu Prasad for 17 years and now they all are joining hands. For this I called it 'apavitra' (unethical) or 'anaitik' (unprincipled)," Shah told reporters here.  
Shah, who is on his maiden visit to Bihar after becoming chief of the party since yesterday, said his party was not at all bothered about the merger of Janata Parivar as people would reject them in the upcoming Assembly poll.  
"From Janata Parivar, janata (people) have come out and only parivar (families) has been left," he said.  Asked if BJP would extend support to Chief Minister Jitan Ram Manjhi and include him in the party in case he is ousted by Nitish Kumar camp, Shah said "when the situation comes we'll see."
The BJP chief exuded confidence that party would win more than 185 seats in 243-member Bihar Assembly in the poll later this year and form its own government.  To a question if the party would project Sushil Modi or anybody else in the Bihar poll, he said "Party's Parliamentary board will decide whether to project anybody and if yes then whom."
Asked why Prime Minister Narendra Modi is going back on his promise to accord special category status to Bihar, the BJP President said, "When a good government will come everything will be given to Bihar. Narendra Modi government is for five years and not for a few months." "Bihar would get its due with interest as promised by Prime Minister Narendra Modi," he added.
In reply to a question if BJP wanted an early election in Bihar, Shah said "BJP is never in favour of election before completion of the term of a government." The BJP chief made a scathing attack at Nitish Kumar for breaking ties with his party to pursue personal ambition of becoming prime minister.
When asked about his comments about the former chief minister, Shah, in a lighter vein said, "I have talked only 'bura' (bad) about Nitish Kumar."
He said that since his party had left the company of Nitish Kumar, "the state is slipping back to days of jungle raj. This proves that the state progress under NDA rule was mainly due to BJP."
He said he had given a target for inclusion of 75 lakh members with BJP to Bihar unit out of the countrywide target of 10 crore.Shah praised performance of Narendra Modi government in a small span of eight months and referred to schemes like Jandhan, bringing down price, decreasing price of petrol/diesel for 11 times among others.  
On the issue of black money which leaders like Nitish Kumar has been raising against the prime minister, Shah said "the issue is at the top of agenda of the government." "In its first cabinet meeting itself, the government constituted SIT and subsequently handed over accounts of more than 750 persons for probe.
Some International laws are creating problems in the way for which Prime Minister Narendra Modi is making efforts to forge a consensus among countries," Shah said.Earlier, Shah visited the home of Loknayak Jayprakash Narayan and garlanded his statue there.