Amit Shah hits back at Congress over land bill
Ranchi: Hitting back at Congress over its charge that Government was helping corporates with Land Bill, BJP Chief Amit Shah today said it cannot mislead people as they know who took away farmers' land and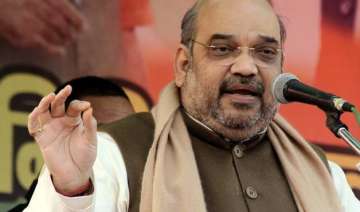 PTI
April 11, 2015 18:17 IST
Ranchi: Hitting back at Congress over its charge that Government was helping corporates with Land Bill, BJP Chief Amit Shah today said it cannot mislead people as they know who took away farmers' land and benefited business houses by giving away spectrum and coal mines in the past.  
Without taking any names, he said the party had no right to level such allegations when "the son-in-law of its family had taken away thousands of hectares of land belonging to farmers", a veiled reference to the issue of land deals of Robert Vadra, son-in-law of Congress chief Sonia Gandhi.
"Not a inch of land will go to the corporates" to give any undue benefit, Shah told a meeting of BJP activists here.  
The BJP chief assured the party workers that the Modi government would not do anything that would make them "bow their heads", instead they will be able to walk with their head held high.
Asserting that the Modi government would see to it that development reached the last person, he said the Land Acquisition Bill would help farmers prosper, open doors for employment, bring electricity and irrigation facilities to their land and increase farm produce.  Describing the opposition as "direction-less", Shah said that the Congress' attempt to "misguide" the people on land bill issue would fail.
"They (Congress) got only 44 seats (in the general elections), finished fourth in the state Assembly election and scored zero in the Delhi Assembly elections," he said.  He sought to know from the Congress how much money it had deposited in the treasury through mines and spectrum allotment.
Shah said the Narendra Modi-led BJP government brought money from the corporate sector through auctioning only 20 of the 220 coal mines and deposited Rs two lakh crore in the coffers.
The people know who has helped corporates, he said. Shah said that the auction money would put the states like Jharkhand on the path of development.
Responding to allegations by the opposition that the Centre's policies were anti-farmer, Shah said it was the Modi government which not only reduced the crop damage percentage to become eligible for compensation but also increased the amount by 50 per cent.
"Earlier, eligibility of compensation for crop loss was 50 per cent crop damage. Now the eligibility is 33 per cent crop damage and compensation amount increased by 50 per cent," Shah said at the 'Karyakarta Samagam' being held by BJP to strengthen the party base and dispel the opposition's "disinformation" campaign on Land Bill.  He asserted that the Modi government will see to it that development reaches the last person, he said.