Amit Shah's new team to have a blend of youth and experience
New Delhi: Bharatiya Janata Party (BJP) president Amit Shah may soon revamp the team of party office bearers. The move is necessitated after several leaders were inducted into Narendra Modi Cabinet. More than one-third posts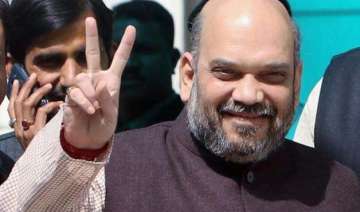 India TV News Desk
April 11, 2015 15:05 IST
New Delhi: Bharatiya Janata Party (BJP) president Amit Shah may soon revamp the team of party office bearers. The move is necessitated after several leaders were inducted into Narendra Modi Cabinet. More than one-third posts are presently lying vacant. 
The names doing the round for being included in Shah's new team are: Om Prakash Mathur, Arjun Munda, Mahendra Singh and Trivendra Singh Rawat and Kailash Vijayvargiya. This is being seen as an attempt to give representation to both youth and experience in Shah's new team.
Shah is also facing stiff challenges to fill the reserved one-third seats for women in the party. 
According to media reports,  out of 13 seats reserved for women, Shah is likely to induct only two in next revamp exercise. 
The issue was also discussed at the last month's BJP-RSS coordination committee meet. The top RSS leadership was reportedly informed that all names for the posts will be decided after BJP National Executive meet in April. 
Sources said that few secretary level leaders may be elevated to top posts. The names in the list are: Arun Singh, Dr Anil Jain, Siddharth Nath Singh and Shrikant Sharma.
At present, Shah is on a nationwide tour. He has so far visited 24 states. He is the first party president to hold discussions with party's district unit leaders. 
Shah was made BJP president in July last year.